Spiced lamb quesadillas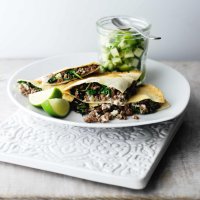 If you're looking for a tasty alternative for a BBQ, then try these spiced lamb quesadillas, they're delicious and really easy to make
Preparation time: 15-20 minutes
Cooking time: 8-10 minutes
Serves: 4
What you need:
450g/1lb lean lamb mince
5ml/1tsp ground coriander
5ml/1tsp ground cumin
Salt and freshly milled black pepper
50g/2oz baby spinach leaves
30ml/2tbsp freshly chopped flat-leaf parsley
8 flour tortillas
100g/4oz feta cheese, crumbled or 1 x 125g tub buffalo mozzarella cheese or similar, drained and torn
30ml/2tbsp olive oil
For the apple and mint salsa:
1-2 large green apples, cored and diced
Large handful freshly chopped mint
15ml/1tbsp mild olive or groundnut oil
15ml/1tbsp lime or lemon juice
5-10ml/1-2tsp runny honey
What you do:
Preheat the oven to Gas mark 7, 220°C,425°F.
Heat a large shallow, non-stick frying pan and dry fry the mince with the spices and seasoning for 8-10 minutes. Remove from the heat and stir through the spinach and parsley.
Place 4 tortillas on a chopping board and spread evenly with the cheese then the lamb mixture. Sandwich together with the remaining tortillas, transfer to a non-stick baking sheet and brush with the oil.
Cook in the oven for 8-10 minutes until the tortillas are crispy and the lamb is cooked through.
Meanwhile prepare the salsa; in a small bowl mix all the ingredients together and set aside.
Slice each quesadilla in half and serve immediately with the apple and mint salsa and a green salad.
This page can be found at: http://secretsauce.co.uk/meat-poultry/lamb-recipes/spiced-lamb-quesadillas/
A short link can also be used: http://bit.ly/egnZFq
Quality Standard lamb

Quality Standard lamb is produced to higher standards than required by law with a supply chain which is fully assured and independently inspected at every stage from farm to meat counter. For more recipes visit the recipe club.
More from Quality Standard lamb

This Valentines Day, give offal a go and try something different by treating the one you love to a tasty dinner of Stuffed braised lamb's heart

A taste of the middle east, perfect for a mid-week supper

These burgers will keep your family coming back for more - they're easy to make and delicious!
Popular in lamb recipes

A taste of the middle east, perfect for a mid-week supper

You can't beat a baked dish for feeding the family - and this is one of the best, made easy for you with red and white sauces for lasagne.

Juicy lamb shanks with shallots, mint and harissa sauce create a fantastic Tunisian dish - just serve with couscous