Pot roast shoulder of lamb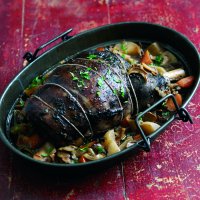 The trick to this recipe is the slow-cooking. It makes the meat deliciously tender and melts in the mouth.
Preparation: 25 mins
Cooking: 250 mins
Serves: 4
What you need:
1 x 1.8kg/4lb lean boned shoulder of lamb
5ml/1tsp cardamom pods, crushed and seeds removed
5ml/1tsp allspice seeds, crushed
5ml/1tsp coriander seeds, crushed
5ml/1tsp black peppercorns
Salt
150ml/¼pint red wine
60ml/4tbsp white wine vinegar
6 pickled walnuts, chopped
Knob of butter
1 onion, peeled and finely chopped
50g/2oz dried porcini mushrooms, softened in 300ml/½pint hot water
2 carrots, peeled and chopped
4 small turnips, peeled and chopped or 1 small pumpkin, seeds removed and roughly chopped
450ml/¾pint good, hot lamb stock
Freshly chopped flat-leaf parsley
What you do:
Lay the joint, skin side down in a large, flat dish. Sprinkle over the spices, seasoning, vinegar and wine. Cover and marinate for at least 6 hours or overnight in the refrigerator.
Place the joint on a chopping board, skin side down. Discard the marinade and sprinkle the walnuts over the joint. Roll up and secure with butcher's string or elasticated meat bands.
Heat the butter in a large non-stick frying pan. Drain the liquid from the mushrooms and reserve. Cook the onion and mushrooms for 2-3 minutes until soft but not brown and transfer to a large casserole dish. Add the reserved mushroom liquid. Preheat the oven to Gas mark 3,170°C, 325°F.
In the same non-stick frying pan brown the joint with the vegetables for 2-3 minutes and transfer to the casserole dish with the stock.
Cover and cook for 2½hours or until tender.
Garnish with the parsley and serve with crusty bread.
Handy cook's tip:
If preferred used 2 x 900g/2lb half lamb shoulder joints instead.
This page can be found at: http://secretsauce.co.uk/meat-poultry/lamb-recipes/pot-roast-shoulder-of-lamb/
A short link can also be used: http://bit.ly/gRIiPT
Quality Standard lamb

Quality Standard lamb is produced to higher standards than required by law with a supply chain which is fully assured and independently inspected at every stage from farm to meat counter. For more recipes visit the recipe club.
More from Quality Standard lamb

This Valentines Day, give offal a go and try something different by treating the one you love to a tasty dinner of Stuffed braised lamb's heart

A taste of the middle east, perfect for a mid-week supper

These burgers will keep your family coming back for more - they're easy to make and delicious!
Popular in lamb recipes

A taste of the middle east, perfect for a mid-week supper

Juicy lamb shanks with shallots, mint and harissa sauce create a fantastic Tunisian dish - just serve with couscous

You can't beat a baked dish for feeding the family - and this is one of the best, made easy for you with red and white sauces for lasagne.