Lamb steaks with broad bean, courgette & chive salad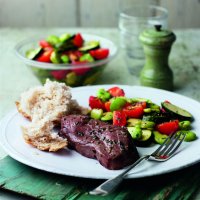 A light and healthy summer supper, ready in under half an hour
Preparation: 10 mins
Cooking: 15 mins
Serves: 4
What you need:
6-8 lean boneless lamb leg or shoulder steaks
Salt and freshly milled black pepper
2 large sprigs freshly chopped rosemary
30ml/2tbsp olive oil
60ml/4tbsp elderflower cordial
For the Broad Bean, Courgette and Chive Salad:
175g/6oz fresh broad beans, blanched
2 medium courgettes, sliced
125g/4oz cherry tomatoes, halved
30ml/2tbsp freshly chopped chives
For the Vinaigrette Dressing:
45ml/3tbsp red wine vinegar
60ml/4tbsp extra virgin olive oil
30ml/2tbsp elderflower cordial
What you do:
In a shallow dish mix the seasoning, rosemary, oil and elderflower together. Add the lamb, coat on both sides with the mixture, cover and refrigerate for 1 hour.
Prepare the salad; place all the ingredients in a large bowl. To make the dressing; place all the ingredients into a screw-topped jar, season and shake well. Pour over the salad and toss.
Meanwhile, cook the steaks under a preheated grill or on a prepared barbecue for 6-8 minutes on each side or until any meat juices run clear.
Serve the lamb with the salad and rye or granary bread
Cook's tip:
This recipe works well with chops and bone-in leg steaks too.
This page can be found at: http://secretsauce.co.uk/meat-poultry/lamb-recipes/lamb-steaks-with-broad-bean-salad/
A short link can also be used: http://bit.ly/hGmoWo
Quality Standard lamb

Quality Standard lamb is produced to higher standards than required by law with a supply chain which is fully assured and independently inspected at every stage from farm to meat counter. For more recipes visit the recipe club.
More from Quality Standard lamb

This Valentines Day, give offal a go and try something different by treating the one you love to a tasty dinner of Stuffed braised lamb's heart

A taste of the middle east, perfect for a mid-week supper

These burgers will keep your family coming back for more - they're easy to make and delicious!
Popular in lamb recipes

A taste of the middle east, perfect for a mid-week supper

Juicy lamb shanks with shallots, mint and harissa sauce create a fantastic Tunisian dish - just serve with couscous

You can't beat a baked dish for feeding the family - and this is one of the best, made easy for you with red and white sauces for lasagne.