Lamb steaks with warm cauliflower, tomato & toasted pine nut salad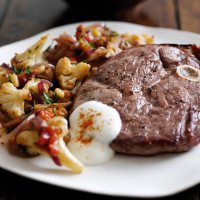 Looking at this dish you'd never guess that it only takes half-an-hour to make from scratch! Your guests can't fail to be impressed with these juicy lamb steaks
Serves: 4
Preparation time: 15 minutes
Cooking time: Under 15 minutes
What you need:
4 lean lamb leg steaks
Salt and freshly milled black pepper
30ml/2tbsp extra virgin olive or rapeseed oil
2 small red onions, peeled and finely sliced lengthways
4 medium tomatoes, skinned, deseeded and roughly chopped
50g/2oz butter
2 garlic cloves, peeled and chopped
1 cauliflower, cut into bite-sized florets and cooked until just tender
40g/1½oz lightly toasted pine nuts
1 small bunch fresh flat-leaf parsley, roughly chopped
To serve:
What you do:
Place the steaks on a chopping board, season and brush on both sides using half the oil. Cook under a preheated grill for 8-10 minutes (for medium), turning occasionally or until any meat juices run clear. Transfer to a warm plate and cover loosely.
Heat the remaining oil in a heavy bottomed, non-stick frying pan and cook the onion for 3-4 minutes until caramelised and partially softened. Add the tomatoes, toss then transfer to a small bowl and set aside.
Return the pan to the hob and melt the butter over a low heat. Add the garlic, fry gently in the butter for a few seconds, then increase the heat and add the cauliflower. Cook until lightly caramelised, tossing occasionally.
Return the tomato mixture to the pan with the cauliflower, stir through the pine nuts and parsley. Season.
Serve the steaks with the warm salad and a dollop of yogurt.
This page can be found at: http://secretsauce.co.uk/meat-poultry/lamb-recipes/lamb-steaks-and-warm-cauliflower-tomato-salad/
A short link can also be used: http://bit.ly/etvZOB
Quality Standard lamb

Quality Standard lamb is produced to higher standards than required by law with a supply chain which is fully assured and independently inspected at every stage from farm to meat counter. For more recipes visit the recipe club.
More from Quality Standard lamb

This Valentines Day, give offal a go and try something different by treating the one you love to a tasty dinner of Stuffed braised lamb's heart

A taste of the middle east, perfect for a mid-week supper

These burgers will keep your family coming back for more - they're easy to make and delicious!
Popular in lamb recipes

A taste of the middle east, perfect for a mid-week supper

You can't beat a baked dish for feeding the family - and this is one of the best, made easy for you with red and white sauces for lasagne.

Juicy lamb shanks with shallots, mint and harissa sauce create a fantastic Tunisian dish - just serve with couscous