Lamb cutlets with anchovy & sun-dried tomato butter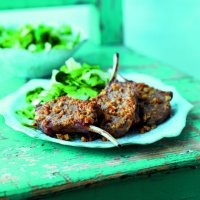 A great way to use up some of those ingredients left in the cupboard
Preparation: 5 mins
Cooking: 16 mins
Serves: 4
What you need:
8 lean lamb cutlets or 4 loin chops
Salt and freshly milled black pepper
For the Sun-Dried Tomato Butter:
100g/4oz unsalted butter, softened
1/2 x 50g can anchovies, drained and roughly chopped
1 garlic clove, peeled and finely chopped or crushed
25g/1oz sun-dried tomatoes in oil, drained
25g/1oz pine nuts, toasted
1.25ml/1/2tsp mild chilli powder
What you do:
To prepare the butter; place all the ingredients in a food processor or blender and process until blended. Put the mixture on a large piece of cling film or foil and mould into a sausage shape. Chill until required.
Season the cutlets or chops and cook under a preheated moderate grill for 6-8 minutes. Turn over and cook for a further 3-4 minutes.
Top each of the cutlets or chops with a disc of the butter. Return to the grill and cook for another 3-4 minutes.
Serve with crusty bread, any meat juices from the pan and the griddled asparagus with shaved Parmesan.
Cook's tip:
If preferred use sun-dried tomato paste instead of sun-dried tomatoes. This butter works well on beef steaks too.
This page can be found at: http://secretsauce.co.uk/meat-poultry/lamb-recipes/lamb-cutlets-with-anchovy-and-tomato-butter/
A short link can also be used: http://bit.ly/g4wERH
Quality Standard lamb

Quality Standard lamb is produced to higher standards than required by law with a supply chain which is fully assured and independently inspected at every stage from farm to meat counter. For more recipes visit the recipe club.
More from Quality Standard lamb

This Valentines Day, give offal a go and try something different by treating the one you love to a tasty dinner of Stuffed braised lamb's heart

A taste of the middle east, perfect for a mid-week supper

These burgers will keep your family coming back for more - they're easy to make and delicious!
Popular in lamb recipes

A taste of the middle east, perfect for a mid-week supper

Juicy lamb shanks with shallots, mint and harissa sauce create a fantastic Tunisian dish - just serve with couscous

You can't beat a baked dish for feeding the family - and this is one of the best, made easy for you with red and white sauces for lasagne.