Lamb & courgette jalfrezi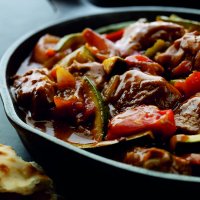 Half-an-hour is all it takes to rustle up this tasty lamb jalfrezi - serve it to the family this Saturday night!
Serves: 4
Nutritional Information
406cals - 20% GDA
10g sugar - 11% GDA
26g fat - 37% GDA
9g sat fat - 45% GDA
1.2g salt - 20% GDA
(Not including pilau rice to serve)
What you need:
2 tbsp vegetable oil
500g lamb neck fillet, cubed
1 red onion, sliced
1 jar Uncle Ben's Jalfrezi sauce
2 courgettes, sliced into batons
3 tomatoes, quartered
Naan bread to serve
What you do:
Heat the oil in a large frying pan or wok, add the lamb and fry for 6-8mins or until browned.
Add the onion and stir-fry for 2mins.
Add the Uncle Ben's Jalfrezi sauce with half a jar of water and bring to the boil. Cover and simmer for 20mins or until the lamb is tender.
Stir in the courgettes and tomatoes and simmer for a further 5mins or until the vegetables are tender.
Serve straight away with naan bread.
This page can be found at: http://secretsauce.co.uk/meat-poultry/lamb-recipes/lamb-courgette-jalfrezi/
A short link can also be used: http://bit.ly/fYzCF6
Uncle Ben's

Uncle Ben's chefs have spent years developing a range of products that bring the flavours of the world to mealtimes. The range includes perfect rice, every time, the subtle flavours of the Orient, a Mexican Fiesta, a taste of Indian and a fantastic Thai range.
More from Uncle Ben's

This easy-to-make tasty meal is really healthy - helping you towards your 5-a-day. Make it with beef mince, or choose Quorn mince if you're vegetarian.

A family favourite, learn how to cook it up in minutes!

Make a tasty treat for Bonfire Night (and beyond!) with this easy solution for a fun family supper.
Popular in lamb recipes

A taste of the middle east, perfect for a mid-week supper

Juicy lamb shanks with shallots, mint and harissa sauce create a fantastic Tunisian dish - just serve with couscous

You can't beat a baked dish for feeding the family - and this is one of the best, made easy for you with red and white sauces for lasagne.