Indian spiced casserole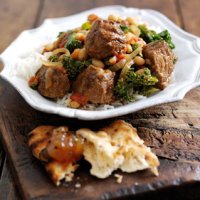 Spend just 15 minutes getting this casserole ready, then go and put your feet up for 2 hours while it cooks!
Serves: 6
Preparation time: 10-15 minutes
Cooking time: 1½-2 hours
What you need:
675g/1½lb lean boneless lamb or mutton (shoulder or leg), cut into 2.5cm/1inch cubes
15ml/1tbsp sunflower oil
Salt and freshly milled black pepper
15ml/1tbsp ground cumin
15ml/1tbsp ground coriander
15ml/1tbsp garam masala
1 medium onion, peeled and sliced
1 x 400g can cherry or chopped tomatoes
150ml/¼pint good, hot lamb stock
½ x 400g can haricot beans, drained
100g/4oz curly kale or cabbage, shredded
What you do:
Heat the oil in a large non-stick frying pan. Meanwhile, place the lamb in a large bowl, add the seasoning and spices and mix gently.
Cook the lamb in batches for 3-4 minutes until brown. Transfer to a large casserole dish. Cook the onions in the same frying pan for 1-2 minutes and add to the casserole dish.
Add the tomatoes and stock, bring to the boil, reduce the heat, cover and simmer for 1½-2 hours.
10 minutes before the end of the cooking time add the haricot beans and kale or cabbage.
Garnish with some freshly chopped coriander and serve the casserole with mango chutney, chapattis, naan bread or rice.
Handy tip: If you prefer your casserole slightly hotter add some hot pepper sauce.
This page can be found at: http://secretsauce.co.uk/meat-poultry/lamb-recipes/indian-spiced-casserole/
A short link can also be used: http://bit.ly/fzoexR
Quality Standard lamb

Quality Standard lamb is produced to higher standards than required by law with a supply chain which is fully assured and independently inspected at every stage from farm to meat counter. For more recipes visit the recipe club.
More from Quality Standard lamb

This Valentines Day, give offal a go and try something different by treating the one you love to a tasty dinner of Stuffed braised lamb's heart

A taste of the middle east, perfect for a mid-week supper

These burgers will keep your family coming back for more - they're easy to make and delicious!
Popular in lamb recipes

A taste of the middle east, perfect for a mid-week supper

You can't beat a baked dish for feeding the family - and this is one of the best, made easy for you with red and white sauces for lasagne.

Juicy lamb shanks with shallots, mint and harissa sauce create a fantastic Tunisian dish - just serve with couscous