Houmous crusted lamb cutlets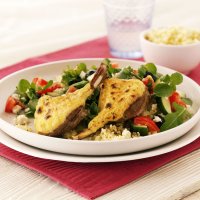 Make your lamb cutlets into something really special with this delicious Greek recipe
Prep: 5 mins
Cook: 10 mins
Serves: 4
Nutritional content:
Energy(kcal) 327
Protein 23.9
Fat (g) 24.0
Of which saturates
(g) 6.8
Carbohydrate (g) 4.2
Of which sugars (g) 0.5
Fibre (g) 2.2
Salt (g) 0.66
What you need:
8 lamb cutlets (trimmed of fat)
a little chilli or extra virgin olive oil
200g pot houmous
Greek salad and cous cous to serve
What you do:
Season the lamb and rub the oil into both sides of the meat. Cook under a hot grill 8-10mins, turning once until golden brown on both sides and cooked to your liking (for well done cook for a bit longer).
Place a heaped spoonful of houmous on each cutlet then pop them back under the grill for a minute or two or until the houmous is tinged golden brown. Serve hot with a salad and couscous.
This page can be found at: http://secretsauce.co.uk/meat-poultry/lamb-recipes/houmous-crusted-lamb-cutlets/
A short link can also be used: http://bit.ly/eeuscs
Fresh dips
Bakkavor Foods is a leading producer of supermarket own-label dips.
More from Fresh dips

Spice up a simple tomato soup recipe with chilli and paprika, then serve with a dollop of sour cream and chive dip and warm crusty bread

It's always a struggle getting your five a day but this recipe counts as 2 portions per serving. Don't forget the houmous and mint dip as a delicious side dish

This is a cheats' recipe for a classic Spanish tapas dish. Potatoes topped with spicy tomato and chilli sauce, the name literally means fierce potatoes
Popular in lamb recipes

A taste of the middle east, perfect for a mid-week supper

Juicy lamb shanks with shallots, mint and harissa sauce create a fantastic Tunisian dish - just serve with couscous

You can't beat a baked dish for feeding the family - and this is one of the best, made easy for you with red and white sauces for lasagne.