Griddled neck of lamb with roasted winter squash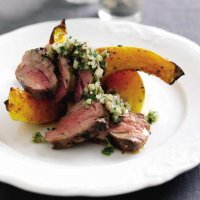 This looks like it'll take ages to make, but with 5 minutes preparation time and just 30 minutes to cook, you could easily make it for a family dinner during the week
Preparation: 5 mins
Cooking: 30 mins
Serves: 4
What you need:
4 lean lamb neck fillets
Salt and freshly milled black pepper
1 small winter squash or pumpkin, peeled, deseeded and cut into 12 hearty wedges
1 large garlic clove, peeled and crushed
1.25ml/¼tsp ground mace (nutmeg will do but mace is better)
Pinch of cayenne pepper or dried chilli flakes
30ml/2tbsp sunflower oil
15g/½oz unsalted butter
For the Lamb Marinade:
2 garlic cloves, peeled and crushed
2 sprigs fresh rosemary, finely chopped
30ml/2tbsp dry white wine
30ml/2tbsp extra virgin rapeseed or olive oil
For the dressing:
1 fresh bay leaf, very finely chopped
1 sprig of fresh thyme
1 garlic clove, peeled and crushed
2 shallots, peeled and finely chopped
1 small handful freshly chopped flat-leaf parsley
Grated zest of 1 lemon
4 anchovy fillets, drained and finely chopped
60ml/4tbsp extra virgin rapeseed or olive oil
What you do:
To prepare the lamb marinade, in a small bowl mix all the ingredients together. Place the fillets in a large shallow dish, spoon over the marinade, cover and refrigerate for 2 hours, or overnight.
Prepare the dressing by mixing all the ingredients except the oil in a small bowl, season and then slacken the mixture with enough oil to give a nice spooning consistency and set aside for later.
Preheat the oven to Gas mark 9, 250°C, 450°F. Place the squash or pumpkin wedges in a large bowl and toss with the seasoning, garlic, mace, cayenne and oil. Tip out into a large roasting tin and arrange so they are all in one layer. Dot with the butter. Cook for 15 minutes then reduce the oven temperature to Gas mark 5, 190°C, 375°F, turn and cook for a further 10-15 minutes. They should have nice golden brown bits on the outside and be soft and squidgy on the inside.
Heat a large non-stick griddle or frying pan until really hot. Season the lamb with salt and pepper and cook for 5-10 minutes on each side, depending on how well done you want them, then transfer to a warm plate to rest for 5 minutes.
Place a few pieces of squash on each plate, slice each fillet into chunky slices and place half on and half off the squash. Add a tablespoon of dressing on top and serve with seasonal vegetables
Serve immediately with seasonal vegetables.
This page can be found at: http://secretsauce.co.uk/meat-poultry/lamb-recipes/griddled-neck-of-lamb-with-roasted-winter-squash/
A short link can also be used: http://bit.ly/dYOIg0
Quality Standard lamb

Quality Standard lamb is produced to higher standards than required by law with a supply chain which is fully assured and independently inspected at every stage from farm to meat counter. For more recipes visit the recipe club.
More from Quality Standard lamb

This Valentines Day, give offal a go and try something different by treating the one you love to a tasty dinner of Stuffed braised lamb's heart

A taste of the middle east, perfect for a mid-week supper

These burgers will keep your family coming back for more - they're easy to make and delicious!
Popular in lamb recipes

A taste of the middle east, perfect for a mid-week supper

Juicy lamb shanks with shallots, mint and harissa sauce create a fantastic Tunisian dish - just serve with couscous

You can't beat a baked dish for feeding the family - and this is one of the best, made easy for you with red and white sauces for lasagne.