Cinnamon & chilli lamb chops with couscous salad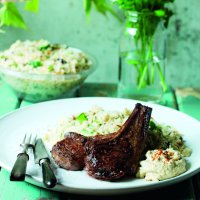 A delicious lamb dish with fluffy couscous and houmous - a quick and exotic dinner!
Preparation: 15 mins
Cooking: 15 mins
Serves: 4
What you need:
8 lean lamb cutlets or chops
Salt and freshly milled black pepper
10ml/2tsp ground cinnamon
2.5ml/½tsp dried chilli flakes
10ml/2tsp oil
For the couscous salad:
450g/1lb couscous
50g/2oz butter
600ml/1pint good, hot vegetable or chicken stock
100g/4oz flaked almonds, toasted
50g/2oz raisins
½ cucumber, deseeded and diced
Large handful freshly chopped mint
What you do:
In a shallow dish mix together the seasoning, cinnamon, chilli flakes and oil.
Place the chops on a chopping board and brush with the flavoured mixture on both sides.
To prepare the couscous; put the couscous and butter in a large shallow heatproof bowl, add the stock, stir gently, cover and leave to stand until the liquid is absorbed (this will take about 5 minutes).
Fluff up the couscous with a fork, and add the remaining couscous ingredients. Season, if required and set aside.
Cook the chops under a preheated grill or on a prepared barbecue for 6-8 minutes on each side.
Serve the lamb with the couscous salad and houmous.
This page can be found at: http://secretsauce.co.uk/meat-poultry/lamb-recipes/cinnamon-and-chilli-lamb-chops-with-couscous-salad/
A short link can also be used: http://bit.ly/dW7Mff
Quality Standard lamb

Quality Standard lamb is produced to higher standards than required by law with a supply chain which is fully assured and independently inspected at every stage from farm to meat counter. For more recipes visit the recipe club.
More from Quality Standard lamb

This Valentines Day, give offal a go and try something different by treating the one you love to a tasty dinner of Stuffed braised lamb's heart

A taste of the middle east, perfect for a mid-week supper

These burgers will keep your family coming back for more - they're easy to make and delicious!
Popular in lamb recipes

A taste of the middle east, perfect for a mid-week supper

Juicy lamb shanks with shallots, mint and harissa sauce create a fantastic Tunisian dish - just serve with couscous

You can't beat a baked dish for feeding the family - and this is one of the best, made easy for you with red and white sauces for lasagne.