Colourful kebab dippers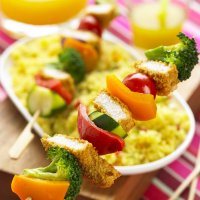 Great for a barbecue, or under the grill in cold weather, these kebabs are colourful and will get you well you on your way to 5 a day
Serves: 4
Prep time: 30 mins
What you need:
12 x pack Bernard Matthews Farms Turkey Dippers - 3 per skewer
1 red onion, peeled and quartered
3 mixed peppers, seeded and cut into chunks
2 courgettes cut into rounds
200g/7oz broccoli florets
8 cherry tomatoes
Olive oil for brushing
4 bamboo skewers
What you do:
Preheat oven to 180c and cook the Bernard Matthews Farms Turkey Dippers according to pack directions.
Bring a saucepan of water to the boil and add the onions, peppers, courgettes and broccoli florets.
Cook for 1 minute, drain, then refresh in cold water.
The ingredients listed are only a guide, so the choice is yours, allowing three Bernard Matthews Farms Turkey Dippers per kebab.
When kebabs are assembled, lay them on a baking tray, brush with olive oil and bake in preheated oven for (15 mins).
Serve with couscous and a mixed salad.
This page can be found at: http://secretsauce.co.uk/meat-poultry/kebab-recipes/colourful-kebab-dippers/
A short link can also be used: http://bit.ly/f1JPyF
Bernard Matthews Farms

With over 55 years experience in turkeys at Christmas, Bernard Matthews Farms has lot of help to offer this yuletide. Whether it's tips on planning in the run up to Christmas, preparing the main meal itself or figuring out what to do with those turkey leftovers, Bernard Matthews Farms has all the Christmas expertise you need to lend you that 'helping hand'. Download the Merry Little Book of Christmas Dinners (available from Mid-November) for a stress-free, enjoyable Christmas!
More from Bernard Matthews Farms

Turn a roast turkey into another dish so you don't waste your leftovers with this delicious turkey tagliatelle

If you've had a lovely roast turkey, don't waste the leftovers, use them up in this delicious sweet and sour recipe

Put your turkey leftovers to good use with a delicious soup. Serve with warm, crusty fresh brown bread
Popular in kebab recipes

The sun's shining so it's time to get the barbie out! Try this delicious kebab recipe and you won't want to let your guests in!

Use dips when you're entertaining to create simple, yet impressive starters

For a delicious barbecue recipe, marinate the chicken, then thread onto kebab sticks with peppers, courgettes and red onion