Thick chips, chicken skewers & black pepper dip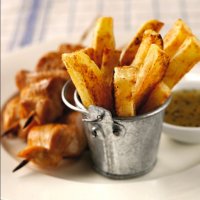 Blow your friends away with this fusion recipe, which combines the flavours from the East with classic cut chips from the West.
Preparation: 20 mins
Cooking: 30 mins
Serves: 4
What you need:
For the chips:
4 large potatoes, preferably Maris Piper, King Edward (about 300g each)
2-3 tbsp of sunflower oil
For the chicken skewers:
2 garlic cloves, crushed
4 tsp light soy sauce
2 tsp oyster sauce
2 tsp sugar
450g skinless chicken breast, cut into long strips
For the dipping sauce:
juice of 5 fresh limes
2 tsp sugar
2 tsp ground black pepper
1/2 tsp salt
What you do:
Heat oven to 200°C/fan 180°C/gas 6.
Mix together the garlic, soy sauce, oyster sauce and sugar. Add the chicken strips and toss to coat evenly. Marinate for about 30 minutes.
To make the dipping sauce, combine lime juice, sugar, black pepper and salt. Pour into individual dipping dishes.
Square off four sides of each unpeeled potato, and then cut into thick even-shaped chips.
Put the chips into a large pot of salted cold water, and bring to the boil. As soon as the water is boiling, drain the chips, and tip them onto kitchen paper to dry thoroughly.
Put the dry chips into a large bowl. Add 2-3 tbsp sunflower oil and toss to coat all the chips with a covering of oil.
Spread the chips onto a baking tray
Bake for 20-30 minutes, shaking every now and again, until the chips are cooked and golden brown.
Thread the chicken onto 8 skewers. Preheat the grill to medium and cook the skewers under the grill, for 6-8 minutes, turning occasionally.
This page can be found at: http://secretsauce.co.uk/meat-poultry/chicken-recipes/thick-chips-chicken-skewers-and-black-pepper-dip/
A short link can also be used: http://bit.ly/wkIkwk
Potato Council
British potatoes
are the ultimate taste sensation that have stood the test of time. They're great value for money, quick and easy to cook and provide a wealth of essential nutrients.
More from Potato Council

Alex says: 'This is simply yummy, as spicy as you fancy with the King Edwards catching a lovely lick of the chicken's roasting juices.'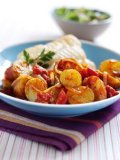 A delicious side dish to serve with any curry or Indian meal

Alex says: 'This is the good King Edward's twist on the Greek filo pastry pie, Spanakopita.'
Popular in chicken recipes

For a quick and easy evening meal, chicken, leek and Cheddar bake, with melt in the mouth cheese, will be a firm family favourite that takes just 10 minutes to prepare

While you're getting this together, why not double up on the ingredients and freeze a lovely chicken and leek pie for another time?

Easy to prepare, these chicken dippers are perfect handed round at parties!