Mini lime & chicken wraps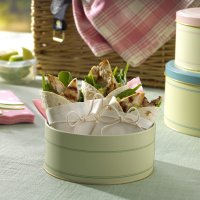 The perfect, healthy little wrap for any lunchbox or picnic - chicken contains lots of protein and is particularly high in vitamin B6, which is great for keeping children energised.
Preparation: 5 mins
Cooking: 10 mins
Serves: 2
What you need:
2 skinless chicken breasts
1 tbsp olive oil
Zest and juice of 1 lime
1 chilli, chopped finely
4 Mission Mini Wheat & White Wraps
Tub of ready-made guacamole (or make your own)
Handful of young leaf spinach
Natural or greek yoghurt, to serve (optional)
What you do:
In a large shallow bowl or dish, coat the chicken with the olive oil, lime zest and juice, chilli, and some salt and pepper. Cook on a hot griddle pan for 6-8 minutes, or until charred slightly on both sides and cooked through.
Warm the tortillas in the microwave, following pack instructions. Spread a little guacamole over each tortilla, then top with some spinach leaves and chicken. Before serving, wrap the tortillas up securely and enjoy whilst still warm with a spoonful of yoghurt.
Cook's tip:
To make this a vegetarian option, simply omit the chicken and replace with grated cheddar cheese
This page can be found at: http://secretsauce.co.uk/meat-poultry/chicken-recipes/mini-lime-and-chicken-wraps/
A short link can also be used: http://bit.ly/hJ4JAQ
Mission Foods

If you're looking for the authentic Mexican-American taste of tortillas, wraps and tortilla chips, you can't make a better choice than Mission Foods
More from Mission Foods

These are a perfect alternative to a tradtional sandwich for kids during the summer holidays!

A tasty warm pitta option, best served with a light greek salad.

These energy wraps make a great lunch - they're packed with slow-releasing carbohydrates and energy-releasing B vitamins to keep you going longer
Popular in chicken recipes

For a quick and easy evening meal, chicken, leek and Cheddar bake, with melt in the mouth cheese, will be a firm family favourite that takes just 10 minutes to prepare

While you're getting this together, why not double up on the ingredients and freeze a lovely chicken and leek pie for another time?

Easy to prepare, these chicken dippers are perfect handed round at parties!