Lemon & parsley chicken with chips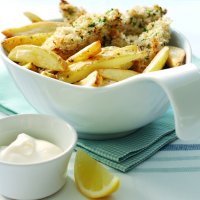 Remember chicken and chips in a basket? This pub favourite brings out the child in everyone and here it is with home made oven chips, served with lemony bread crumbed chicken pieces. Delish with a lemon mayo dip.
Preparation: 15 mins
Cooking: 40 mins
Serves: 2
What you need:
50g fresh breadcrumbs
Zest of 1 lemon
2 tbsp chopped parsley
2 chicken breasts (approx. 300g)
1 medium egg, beaten
2-3 medium potatoes e.g. Maris Piper
1 tbsp oil
What you do:
Preheat the oven to 200oC, gas mark 6.

Mix together 50g fresh breadcrumbs, zest of 1 lemon, 2 tbsp chopped parsley and then season.

Cut 2 chicken breasts into strips and first dip into 1 beaten egg, then in the breadcrumb mixture to evenly coat. Place on a non-stick baking tray.

Cut 2-3 medium unpeeled potatoes into chips. Place in a medium sandwich bag with the oil and shake well to coat. Transfer to a separate non-stick baking tray.

Place both trays in the oven with the chips at the top of the oven and bake for 30-40 minutes or until golden and the chicken is thoroughly cooked.

Serve the chicken strips with the chips.
Handy cook's tips:
• Love food, hate waste? Then don't throw out the lemon, instead mix 1tbsp of the lemon juice with 2 tbsp low fat mayonnaise, for a great dip for the chips
• To make fresh breadcrumbs whizz one or two day old bread in a food processor or blender
This page can be found at: http://secretsauce.co.uk/meat-poultry/chicken-recipes/lemon-and-parsley-chicken-with-chips/
A short link can also be used: http://bit.ly/h50jMA
National Chip Week 2010
Love Chips
will be celebrating National Chip Week 2010 from 15th - 21st of February.
More from National Chip Week 2010

In the mid 1970s, curry sauce became a popular accompaniment served in fish and chip shops. Why not rediscover its super fruity flavour by making your own at home? It's the perfect partner for warm, comforting chips

Gammon, egg and chips gets a makeover with this delicious honey and mustard topped gammon served with poached egg and satisfyingly chunky wedges. A great pub classic with a modern twist that can be enjoyed in the comfort of your own home

Fish and chips are 150 years old in 2010 so celebrate with cod pieces with pesto, baked with chunky homemade chips, then served with minted mushy peas!
Popular in chicken recipes

For a quick and easy evening meal, chicken, leek and Cheddar bake, with melt in the mouth cheese, will be a firm family favourite that takes just 10 minutes to prepare

While you're getting this together, why not double up on the ingredients and freeze a lovely chicken and leek pie for another time?

Easy to prepare, these chicken dippers are perfect handed round at parties!