Pesto cod & chips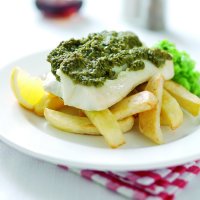 Fish and chips are 150 years old in 2010 and what better way to celebrate its birthday by commemorating the original dish with a fresh, new interpretation that's easy to make at home? We've topped cod pieces with pesto and baked it with chunky homemade chips, then served with minted mushy peas!
Preparation: 15 mins
Cooking: 35 mins
Serves: 2
What you need:
2-3 medium potatoes e.g. Maris Piper
1 tbsp oil
2 x 200g cod steaks or other white fish
1½ tbsp pesto sauce
Homemade mushy peas
538g can of marrowfat peas
2 tbsp of Greek yogurt
1 tbsp chopped mint
What you do:
Preheat the oven to 200oC, Gas mark 6. Cut the peeled potatoes into chips.

Place in a medium sandwich bag with the oil and shake well to coat. Transfer to a non-stick baking tray. Bake for 20 minutes.
Meanwhile, place the cod in a small roasting tin and spread over the pesto.

Place in the oven with the chips and cook for a further 10-15 minutes until golden, turning once.

Meanwhile to make the mushy peas empty a 538g drained can of marrowfat peas into a pan with 2tbsp Greek yoghurt and 1tbsp chopped mint.

Bring to the boil, then cook for 5 minutes before serving with the fish and chips.
Handy cook's tip:
For a quick tip that will save you time, buy a can of mushy peas instead of making your own
For a different take on mushy peas; blend frozen peas with mint
This page can be found at: http://secretsauce.co.uk/fish-seafood/cod-recipes/pesto-cod-and-chips/
A short link can also be used: http://bit.ly/evXwty
National Chip Week 2010
Love Chips
will be celebrating National Chip Week 2010 from 15th - 21st of February.
More from National Chip Week 2010

In the mid 1970s, curry sauce became a popular accompaniment served in fish and chip shops. Why not rediscover its super fruity flavour by making your own at home? It's the perfect partner for warm, comforting chips

Gammon, egg and chips gets a makeover with this delicious honey and mustard topped gammon served with poached egg and satisfyingly chunky wedges. A great pub classic with a modern twist that can be enjoyed in the comfort of your own home

It's time steak and chips had a modern update and we've given this classic gastro dish a healthy twist by tossing the perfect portion of chips with griddled steak strips and salad leaves
Popular in cod recipes

Quick and easy to make whilst being very light and healthy, this is good food at its best.

This tender cod with a crunchy exterior is so full of flavour, you won't need much to accompany it, so keep it light with just a leafy green salad

Tender salmon and cod, with sweetcorn, cheese and spring onions, this fish pie will live up to its name and soon become a firm family favourite