Jamaican jerk chicken with a mango chilli salsa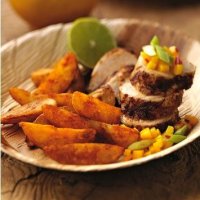 Spice things up with this Jamaican jerk chicken and Mango Chilli salsa served with spicy potato wedges. To help you enjoy this great British summer with friends and family, McCain Foods have got some delicious recipes using McCain Wedges, which all the family will enjoy.
Preparation: 20 mins
Cooking: 50 mins
Serves: 5
What you need:
300g McCain Lightly Spiced Wedges
4 chicken breasts
For the jerk sauce:
1 onion, peeled and quartered
2 red chillies halved and seeded (or 1-2 scotch bonnet chillies if you like things hot)
2 tbsp root ginger, peeled and chopped roughly
1/2 tsp ground allspice
1 tsp freshly ground black pepper
100ml white wine vinegar
100ml dark soy sauce
For the salsa:
1 large, ripe but firm mango, peeled, stoned and diced
1 red chilli, deseeded and finely sliced
3 spring onions, thinly sliced on the diagonal
1 tbsp lime juice
What you do:
Place all the ingredients for the jerk sauce in a food processor or liquidizer and whiz until smooth. If you do not have a food processor, just chop the onion, red chilli and root ginger as finely as you possibly can and mix with the spices, vinegar and soy sauce. Keep a tablespoon of the sauce to the side for the spiced wedges
Place the chicken in a large, shallow dish. Slash each piece 3-4 times and pour over the jerk sauce. Cover and leave in the fridge for 1-2 hours or if time allows, overnight to marinate
Mix together the salsa ingredients and chill until ready to serve
Preheat the oven to 200°C/fan oven 180°C/Gas mark 6
Place the chicken in a roasting tin and place in the re-heated oven. Remove the chicken after 30 minutes and baste with the marinade. Return to the oven for a further 15 minutes or until the chicken is thoroughly cooked
Place the wedges into a large bowl and add a tablespoon of the reserved jerk sauce. Toss gently in the bowl, place the wedges onto a baking sheet and cook as per pack instructions
When the chicken is ready, serve alongside the spicy wedges and a spoonful of salsa
This page can be found at: http://secretsauce.co.uk/meat-poultry/chicken-recipes/jamaican-jerk-chicken-with-a-mango-chilli-salsa/
A short link can also be used: http://bit.ly/O8dinN
McCain

McCain is Britain's favourite chip maker and takes pride in the quality of all its products. McCain is a family business that works closely with 300 British farmers, some of whom it has worked in partnership with for three generations. The company aims to make good, simple food and at its heart are its people, the community and the environment. For the full range of McCain products with nutritional information please go to http://www.mccain.co.uk
More from McCain

A traditional dish with a British twist. These Ploughman's pies are sure to go down a treat at any party this year!

A delicious curry-filled baked potato with a fruity twist

This Spanish tapas is the perfect dish for entertaining, surprise your friends with this deliciously different meal.
Popular in chicken recipes

For a quick and easy evening meal, chicken, leek and Cheddar bake, with melt in the mouth cheese, will be a firm family favourite that takes just 10 minutes to prepare

While you're getting this together, why not double up on the ingredients and freeze a lovely chicken and leek pie for another time?

Easy to prepare, these chicken dippers are perfect handed round at parties!