Honey & mustard glazed chicken with chantenay salad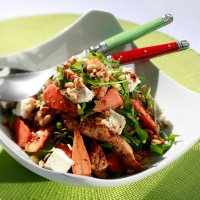 Honey and mustard are such great partners for chicken, and this is a fantastic recipe to try making it!
Serves: 4
What you need:
For the salad you'll need:
200g Chantenay carrots, halved lengthways
2 large skinless chicken breasts, cut into strips
3 tbsp Hill Farm cold pressed rapeseed oil
2 tbsp clear honey
1 tbsp Maille Dijon Wholegrain Mustard
100g rocket leaves, washed
50g pine nuts, toasted
100g soft goats' cheese, crumbled
For the dressing you'll need:
3 tbsp Hill Farm cold pressed rapeseed oil
1 tbsp Aspall balsamic vinegar
1 tsp Maille Dijon Originale Mustard
½ tsp caster sugar
What you do:
Mix together 2 tbsp of the oil, honey and mustard and season with black pepper. Stir in the strips of chicken, mix well, cover and leave to marinate for 1 - 2 hours.
Heat the remaining 1 tbsp oil in a frying pan, and pan fry the Chantenay for 10 minutes, until lightly browned but still retaining their crunch. Remove from the pan and set aside. Return the pan to the heat and add the chicken. Cook for 7 - 10 minutes, until the chicken is golden brown, glazed and cooked through.
In a large serving bowl whisk together all the ingredients for the dressing until well combined. Add the rocket leaves, pine nuts and goats' cheese. Toss together, then at the last minute add the warm Chantenay and chicken. Serve immediately.

This page can be found at: http://secretsauce.co.uk/meat-poultry/chicken-recipes/honey-mustard-glazed-chicken-chantenay-salad/
A short link can also be used: http://bit.ly/dXD7nC
Chantenay carrots

Chantenay is a small sweet variety of carrot with crisp, orange flesh and a tender texture. Five Chantenay carrots count as one portion towards the recommended five portions of fruit and veg we should eat each day.
More from Chantenay carrots

A fantastic winter warmer with sweet Chantenay carrots, tender chunks of steak in a rich gravy with filling dumplings.

Leg or shoulder of lamb with sweet carrots and spring vegetables is a great Sunday dish, just make sure you've got a big helping of redcurrant jelly handy

If you love olives, you'll love this recipe and the good news is this rice salad's really good for you too!
Popular in chicken recipes

For a quick and easy evening meal, chicken, leek and Cheddar bake, with melt in the mouth cheese, will be a firm family favourite that takes just 10 minutes to prepare

While you're getting this together, why not double up on the ingredients and freeze a lovely chicken and leek pie for another time?

Easy to prepare, these chicken dippers are perfect handed round at parties!