Fifties crinkle chips with Coronation chicken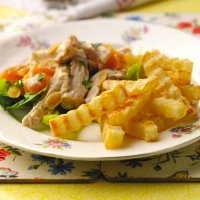 Coronation chicken was invented by Constance Spry and Rosemary Hume to celebrate the coronation of Her Majesty the Queen in 1953. Today it is a classic salad and sandwich filling. Add a hotter curry paste if you like a bit more spice.
Preparation: 20 mins
Cooking: 45 mins
Serves: 4
What you need:
For the chips:
6 large floury potatoes, such as Maris Piper, King Edward or Desir�e (about 1.5kg)
2 tbsp sunflower oil
For the Coronation chicken:
4 cooked chicken breasts, skinned
75g ready to eat dried apricots, chopped
50g toasted flaked almonds
4 tbsp light mayonnaise
2 tbsp light Greek style yogurt
2 tbsp mango chutney
1 tbsp medium curry paste
What you do:
Heat the oven to 200°C/fan 180°C/gas 6.
Peel the potatoes and cut them into long chip shapes using a crinkle chip cutter. You can decide the thickness; just make sure all the chips are of a similar thickness so they cook equally. Rinse with cold water and pat dry with kitchen towel or a clean tea towel.
Spread the chips on the baking tray and toss with the oil. Do not overcrowd the potatoes.
Roast for 45-50 minutes, turning occasionally. When cooked the chips should be golden brown and crisp with a light fluffy centre.
Rip or cut the chicken into bite size pieces and place into a large bowl. Add the apricots and flaked almonds.
Mix the chicken in a bowl with the mayonnaise, Greek style yogurt, chutney and curry paste. Add to the chicken and toss gently.
This page can be found at: http://secretsauce.co.uk/meat-poultry/chicken-recipes/fifties-crinkle-chips-with-coronation-chicken/
A short link can also be used: http://bit.ly/yVIy0L
Potato Council
British potatoes
are the ultimate taste sensation that have stood the test of time. They're great value for money, quick and easy to cook and provide a wealth of essential nutrients.
More from Potato Council

Alex says: 'This is simply yummy, as spicy as you fancy with the King Edwards catching a lovely lick of the chicken's roasting juices.'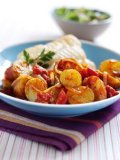 A delicious side dish to serve with any curry or Indian meal

Alex says: 'This is the good King Edward's twist on the Greek filo pastry pie, Spanakopita.'
Popular in chicken recipes

For a quick and easy evening meal, chicken, leek and Cheddar bake, with melt in the mouth cheese, will be a firm family favourite that takes just 10 minutes to prepare

While you're getting this together, why not double up on the ingredients and freeze a lovely chicken and leek pie for another time?

Easy to prepare, these chicken dippers are perfect handed round at parties!