Easy roasted chantenay with lemon & thyme chicken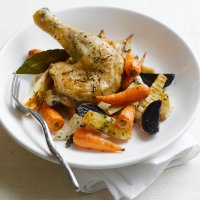 This is packed full of flavour because the chicken is marinated for an hour to soak up all the lovely lemon and thyme flavours
Serves: 4
Preparation time: 15 minutes
Cooking time: 1 hour
What you need:
4 tbsp olive oil
Pared rind and juice of 1 lemon
3 large sprigs of thyme
4 chicken portions
400g Chantenay carrots, scrubbed (and halved, if large)
2 medium parsnips, scrubbed or peeled, topped, tailed and cut into wedges
2 medium turnips, peeled and cut into wedges
2 medium raw beetroot, peeled and cut into wedges
2 tsp brown sugar
2 bay leaves
Salt and pepper
What you do:
First marinate the chicken. In a bowl, combine 2 tablespoons of the olive oil with the rind and juice of the lemon, the leaves of a sprig of thyme and some black pepper. Add the chicken pieces and rub with the marinade. Cover and leave in the fridge to marinate for an hour.
An hour or so before you want to eat, preheat the oven to 200˚C/Gas Mark 6.
In a bowl, toss the prepared Chantenay, parsnips, turnips and beetroot with the remaining 2 tablespoons of olive oil, the brown sugar, a couple of sprigs of thyme and bay leaves. Season with salt and pepper. Transfer the vegetables to a large roasting tin (large enough to hold the vegetables comfortably in a single layer).
Place the vegetables in the preheated oven to roast for one hour, turning once or twice during cooking. Put the marinated chicken into a separate roasting tin, season with salt and add to the oven for the last 40 minutes of the cooking time. The vegetables are ready when cooked through and starting to blacken around the edges; the chicken is cooked when the skin is golden brown and the juices run clear when pierced with a knife.
Serve the chicken on top of a bed of vegetables.

This page can be found at: http://secretsauce.co.uk/meat-poultry/chicken-recipes/easy-roasted-chantenay-thyme-chicken/
A short link can also be used: http://bit.ly/gmwEuN
Chantenay carrots

Chantenay is a small sweet variety of carrot with crisp, orange flesh and a tender texture. Five Chantenay carrots count as one portion towards the recommended five portions of fruit and veg we should eat each day.
More from Chantenay carrots

Leg or shoulder of lamb with sweet carrots and spring vegetables is a great Sunday dish, just make sure you've got a big helping of redcurrant jelly handy

A fantastic winter warmer with sweet Chantenay carrots, tender chunks of steak in a rich gravy with filling dumplings.

If you love olives, you'll love this recipe and the good news is this rice salad's really good for you too!
Popular in chicken recipes

For a quick and easy evening meal, chicken, leek and Cheddar bake, with melt in the mouth cheese, will be a firm family favourite that takes just 10 minutes to prepare

While you're getting this together, why not double up on the ingredients and freeze a lovely chicken and leek pie for another time?

Easy to prepare, these chicken dippers are perfect handed round at parties!