Chicken with shallots, olives & thyme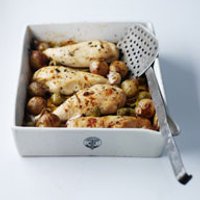 If you're looking for a recipe that's full of flavour and easy to make, this one's on the table in just 40 minutes!
Serves: 4
Preparation time: 10 minutes
Cooking time: 30 minutes
What you need:
4 skinless chicken breast fillets
12 shallots, peeled
4 garlic cloves
16 good quality pitted green olives
2 sprigs fresh thyme
2 tbsp extra virgin olive oil
2 tbsp sherry vinegar
salt and freshly ground black pepper
What to do:
Preheat the oven to 190C/Gas 5.
Arrange the chicken breasts in a shallow roasting tin or baking dish. Tuck the shallots, garlic and olives in around the chicken and place the thyme sprigs on top.
Drizzle over the oil and season with salt and pepper.
Bake for 20 minutes, then remove from the oven and drizzle over the sherry vinegar.
Cook for a further 10 minutes, until the chicken is cooked through. Serve with a green salad.
This page can be found at: http://secretsauce.co.uk/meat-poultry/chicken-recipes/chicken-shallots-olive-thyme/
A short link can also be used: http://bit.ly/hbf939
UK shallots
UK shallots are amongst the finest in the world with a uniquely mild, sweet flavour. Used for centuries as an important ingredient in both western and eastern cooking to add flavour, sweetness and piquancy, shallots turn savoury recipes into something really special.
More from UK shallots

Tender sea bass with a sauce of shallots, cream and herbs - perfect for a dinner party or a romantic dinner for two

Tender beef with the spice of chilli and the sweetness from sweet potato creates an exciting stew-type dish bursting with flavour.

Venison may be slightly unusual for a burger, but it tastes as good, if not better than traditional beef. So try something different tonight with this easy recipe.
Popular in chicken recipes

For a quick and easy evening meal, chicken, leek and Cheddar bake, with melt in the mouth cheese, will be a firm family favourite that takes just 10 minutes to prepare

While you're getting this together, why not double up on the ingredients and freeze a lovely chicken and leek pie for another time?

Easy to prepare, these chicken dippers are perfect handed round at parties!