Roast lemon chicken & potato wedges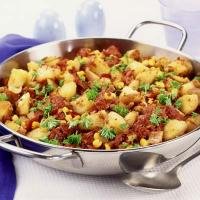 Prep Time: 15 mins
Cook Time: 60 mins
Serves: 6
What you need:

6 boneless chicken breasts, with skins
1 small red onion, cut into 8 wedges
500g floury potatoes e.g. King Edward, scrubbed and cut into wedges
1 large lemon
6 cloves garlic
2 tsp clear honey
1½ tbsp olive oil
Salt and pepper
1 tsp fresh thyme
6 sprigs fresh rosemary
What to do:

Using a non-stick frying pan, dry fry the chicken breasts, skin side down for 2-3 minutes until browned. Place in a large roasting tin with the onion and potato wedges.
Remove the zest from the lemon and cut in half. Cut one half into wedges and add to the pan with 4 whole cloves of garlic. Squeeze the juice from the other half of lemon and mix with the zest, honey, oil and remaining crushed garlic. Pour over the chicken, season well and add the herbs.
Bake for 1 hour or until the potato wedges are tender and the chicken is cooked throughout. Serve immediately from the roasting tin.
Useful tip:
If really short of time, use either ready prepared frozen or chilled potato wedges. If using frozen potato wedges reduce the cooking time to 45-50 minutes or until the chicken is cooked throughout.
This page can be found at: http://secretsauce.co.uk/meat-poultry/chicken-recipes/chicken-lemon-garlic-thyme/
A short link can also be used: http://bit.ly/g51Jot
Potato Council
British potatoes
are the ultimate taste sensation that have stood the test of time. They're great value for money, quick and easy to cook and provide a wealth of essential nutrients.
More from Potato Council

Alex says: 'This is simply yummy, as spicy as you fancy with the King Edwards catching a lovely lick of the chicken's roasting juices.'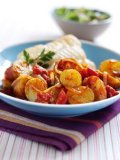 A delicious side dish to serve with any curry or Indian meal

Alex says: 'This is the good King Edward's twist on the Greek filo pastry pie, Spanakopita.'
Popular in chicken recipes

For a quick and easy evening meal, chicken, leek and Cheddar bake, with melt in the mouth cheese, will be a firm family favourite that takes just 10 minutes to prepare

While you're getting this together, why not double up on the ingredients and freeze a lovely chicken and leek pie for another time?

Easy to prepare, these chicken dippers are perfect handed round at parties!