Chicken Katsu curry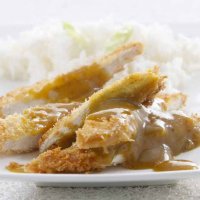 Katsu Curry is a Japanese restaurant favourite consisting of crispy breaded chicken, pork or vegetables served on a bed of rice with a mild Japanese curry sauce. The Blue Dragon Katsu Curry Meal Kit contains all the ingredients necessary to easily create this delicious dish at home: Japanese Rice, Panko Breadcrumbs and Japanese Curry Sauce.
Preparation: 15 mins
Cooking: 30 mins
Serves: 6
What you need:
4 chicken breasts
1 Blue Dragon Katsu Curry Meal Kit
salt and pepper to season
4 tbsp flour in a small mixing bowl
2 lightly beaten eggs in a small mixing bowl
oil for frying
What you do:
Place the bags of Blue Dragon rice in boiling salted water and cook for 15-20 minutes until cooked. Empty the rice from the bags, drain well and keep warm.
Whilst the rice is cooking, slice each chicken breast in half horizontally and sprinkle with salt and pepper. Place the bowls with the flour and eggs next to each other in a row and a large plate next to the bowls.
Take the pieces of chicken and one by one, dust with flour, dip into the beaten egg and then the Blue Dragon breadcrumbs. When finished carefully place on the plate in a single layer. Once they have all been dipped once, re-dip the chicken pieces and egg and then breadcrumbs. This will create a more solid breadcrumb layer.
**CAUTION-HOT OIL*** Heat about ¾ inch oil in a large frying pan until around 180-190' or use a deep fat fryer
Place the chicken in the oil facing away from you, carefully ensuring the oil doesn't splash. Either fry or deep-fry the chicken until cooked through, golden brown and crispy - this usually takes around 3-4 minutes on each side
Carefully remove the chicken and drain on kitchen paper. When the chicken has cooled to handling temperature, cut the chicken katsu into diagonal slices
Heat the Blue Dragon Japanese curry sauce in a pan of boiling water
Serve the sliced chicken on a bed of rice and pour over the warm curry sauce.
Handy cook's tip:
Serve with a simple cabbage salad – julienne a cucumber, carrot, half a pointed cabbage and two fresh chillies. Place in a bag with a tsp salt, a tbsp of sugar, a tbsp rice vinegar and ½ tbsp sesame oil. Knot the bag and spin it several times to combine.
Also, if the oil is hot enough the breadcrumbs will go soggy. The temperature of the oil will also reduce if you cook too many pieces at a time – stick to two at the most.
This page can be found at: http://secretsauce.co.uk/meat-poultry/chicken-recipes/chicken-katsu-curry/
A short link can also be used: http://bit.ly/f3UcvM
Blue Dragon

Blue Dragon was created over 30 years ago to help British people create authentic Chinese dishes at home. Since then it's gone truly pan-Asian, with ingredients to help create delicious dishes from Thailand, Japan and Vietnam and expanding the Chinese range.
More from Blue Dragon

Cocktail sausages cooked in honey are popular finger food, but wait until you've tried these sweet chilli versions

Isn't curry Indian? Not in this recipe - it's Chinese and delicious with egg fried rice

A delicious and unusual recipe, this sticky plum and duck stir-fry is amazing served with beetroot crisps and pistachios
Popular in chicken recipes

For a quick and easy evening meal, chicken, leek and Cheddar bake, with melt in the mouth cheese, will be a firm family favourite that takes just 10 minutes to prepare

While you're getting this together, why not double up on the ingredients and freeze a lovely chicken and leek pie for another time?

Easy to prepare, these chicken dippers are perfect handed round at parties!