Alan Coxon's citrus potatoes with blackened Cajun chicken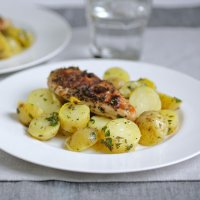 Get a taste of Louisiana with this lovely blackened Cajun chicken dish created by food archeologist Alan Coxon
Prep time: 5 mins

Cook time: 16 mins

Serves: 4
What you need:
4 boneless, skinless chicken breasts
3 cloves garlic, crushed
2 tbsp Cajun seasoning
500g Charlotte potatoes
Zest and juice of 1 lemon
50ml olive oil
1 tbsp chopped parsley
What you do:
Make 3 slits in each chicken breast but not all the way through. Rub over the garlic and sprinkle over the Cajun seasoning. Place under a preheated grill for 7-8 minutes on each side, until cooked throughout.
Meanwhile, slice the potatoes into 4 and cook in boiling water for 10 minutes until tender, and drain.
Mix together the lemon zest and juice, whisk in the oil and add the parsley, season well. Add the potatoes and mix well.
Serve warm with the Cajun chicken.
This page can be found at: http://secretsauce.co.uk/meat-poultry/chicken-recipes/alan-coxons-citrus-potatoes-with-cajun-chicken/
A short link can also be used: http://bit.ly/hEc3VV
British Potatoes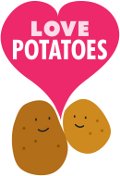 Visit the Potato Council for information on one of Britain's finest, natural, wholesome and economical foods. You'll also find potato recipes, nutritional information and tips on which potato variety to use.
More from British Potatoes

A warming and filling dish, this casserole was devised by food archeologist Alan Coxon and takes just 10 minutes to prepare

Make a one-pot Thai red chicken curry with potatoes, so you don't need to worry about getting the rice just right. Or why not serve an all-in-one roast dinner to really impress your guests.

A creamy, delicious, filling haddock and potato soup that takes mere minutes to make and was devised by food archeologist Alan Coxon
Popular in chicken recipes

For a quick and easy evening meal, chicken, leek and Cheddar bake, with melt in the mouth cheese, will be a firm family favourite that takes just 10 minutes to prepare

While you're getting this together, why not double up on the ingredients and freeze a lovely chicken and leek pie for another time?

Easy to prepare, these chicken dippers are perfect handed round at parties!