Thai red chicken & potato curry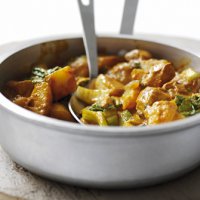 Make a one-pot Thai red chicken curry with potatoes, so you don't need to worry about getting the rice just right. Or why not serve an all-in-one roast dinner to really impress your guests.
Prep Time: 10 mins
Cook Time: 20 mins
Serves: 4
What you need:
600g potatoes, cut into 3cm chunks
500g chicken breast, diced
1 onion, diced (250g)
1 tbsp oil
2-3 tbsp red Thai curry paste (50-75g)
400ml tin coconut milk
235g pack pak choi, shredded (or use cabbage or kale)
Coriander leaves to serve (optional)
What you do:
Boil the potatoes for 5 minutes, then drain.
Meanwhile, fry the chicken and onion in the oil for 7-8 minutes over a medium heat until browned then add the curry paste, coconut milk and potatoes. Cover and simmer for 8 minutes, stirring occasionally.
Add the pak choi and continue cooking for 2 minutes. Garnish with chopped coriander before serving.

Potato tip: Maris Piper or Desiree potatoes are ideal for this dish, but any variety will work.
This page can be found at: http://secretsauce.co.uk/meat-poultry/thai-recipes/thai-red-chicken-and-potato-curry/
A short link can also be used: http://bit.ly/eioGR8
British Potatoes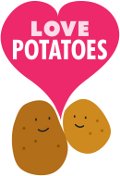 Visit the Potato Council for information on one of Britain's finest, natural, wholesome and economical foods. You'll also find potato recipes, nutritional information and tips on which potato variety to use.
More from British Potatoes

A warming and filling dish, this casserole was devised by food archeologist Alan Coxon and takes just 10 minutes to prepare

A creamy, delicious, filling haddock and potato soup that takes mere minutes to make and was devised by food archeologist Alan Coxon

Fishcakes can be tricky to get right - you have to perfect the balance of fish and potatoes and this recipe, devised by Alan Coxon, does just that!
Popular in thai recipes

This is an incredibly quick, no hassle meal yet it seems on serving as if you have made quite an effort

To create the perfect Thai green curry you have to get the right balance of ingredients and this recipe does it all for you

A traditional Thai coconut soup served as a palate cleanser with the main meal