Smoky sausage, potato & bean casserole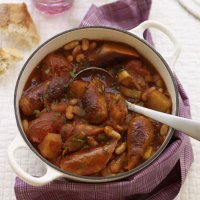 A mouth-watering, comforting dish filled with flavour that'll fill you up and warm you from the inside out

Serves: 4-6
What you need:
1 tbsp olive oil
8 thick Richmond sausages
1 onion, peeled and cut into slices
2 garlic cloves, peeled and finely chopped
1 leek, washed and cut into thick slices
2 medium potatoes, peeled and cut into chunks (approx 450g)
2 tsp smoked paprika
2 x 400g tins plum tomatoes
Splash of red wine
200ml beef stock
350g cannellini beans (drained weight)
Salt and pepper
Small handful of flat-leaf parsley or chives, chopped
Crusty bread, to serve
What you do:
Heat the oil in a large sauté pan and fry the sausages for 8-10 minutes, turning frequently until browned all over. Remove from the pan, cut in half and set aside.
Drain any excess oil from the pan then add the onion and garlic and sauté for a few minutes to soften. Add in the leeks, potato and smoked paprika and cook for 4-5 minutes.
Pour in the tomatoes, red wine and stock and bring to the boil. Reduce the heat and return the sausage pieces to the pan, along with the cannellini beans. Cover with a lid and cook for 20-25 minutes over a low heat, stirring occasionally. Remove the lid and continue to cook for a further 5-10 minutes.
Season to taste, and scatter with parsley or chives.

Serve with crusty bread.
This page can be found at: http://secretsauce.co.uk/meat-poultry/casserole-recipes/sausage-potato-bean-casserole/
A short link can also be used: http://bit.ly/fVyD5j
Richmond Sausages

The
Richmond Sausage
range has something for every sausage lover. With Richmond's smooth texture and unmistakeable flavour, it's easy to see why they're popular whatever the occasion.
More from Richmond Sausages

This is the best breakfast, especially if you've over-indulged a little the night before, but don't save it until then, it's great for dinner too!

Give your family a delicious dinner with this filling sausage omelette that's quick to make, using ingredients you probably already have!

Hot dogs are so much better when you make them at home. These have mustard, bacon and caramelised onions to give them a delicious flavour
Popular in casserole recipes

This is a great one-pot dish. Look out for good quality meat in your supermarket

A perfect one-pot dish that can just be left to cook in the oven, making it a convenient mid-week meal

A hearty and warming autumn dish that's easy to prepare and is well worth the wait!