Jo Pratt's Freixenet & chicken casserole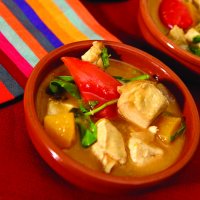 This casserole consists of juicy chicken breasts simmered in fresh and fruity cava with lots of light vegetables, herbs and tomato puree. No additional vegetables or side dishes are required - you just need to stir in some baby spinach when serving. It tastes delicious and there's very little washing up to be done. Truly an all-round winner.
What you need:
2 tbsp olive oil
2 tbsp plain flour
4 chicken breasts, skin on
12-16 shallots, peeled and halved
2 long sticks of celery cut into 1-2cm slices, on the angle
1 small butternut squash, peeled and cut into chunky bite-size pieces
1 large red pepper, seeded and cut
1 bay leaf
1 small bunch thyme
1 heaped tbsp tomato puree
500ml Freixenet Cordon Negro
150-200g baby spinach leaves
What you do:
Pre-heat the oven to 190°C/170°C fan ovens/gas 5
Heat a large oven-proof casserole with the olive oil. Season the chicken with salt and pepper then toss in the flour to coat. Place skin side down in the casserole and fry until the skin is deep golden. Transfer the chicken to a plate and add the shallots to the casserole. Fry for just a couple of minutes until they are beginning to become golden.
Stir in any remaining flour from coating the chicken, along with the celery, butternut squash, red pepper, bay leaf, thyme, tomato puree and seasoning and return the chicken to the casserole. Pour in the Freixenet and bring to a simmer. Season with salt and pepper, cover with the lid and place in the oven to cook for 40 minutes.
Just before serving, remove the bay leaf and thyme sprigs, then stir in the spinach leaves so they start to wilt. Spoon the casserole into bowls. Serve straight away.
Cook's tip:
If preferred a whole jointed chicken could be used instead of the chicken breasts. The cooking time will need to be increased by 10 minutes to make sure the chicken is cooked through.
Cava recommendation
Jp Pratt: "I'd recommend drinking Freixenet Cordon Negro with Freixenet and Chicken Casserole as its fruity elegance will balance the flavours of the dish."
This page can be found at: http://secretsauce.co.uk/meat-poultry/casserole-recipes/jo-pratts-freixenet-and-chicken-casserole/
A short link can also be used: http://bit.ly/pRkFqS
Freixenet

Based in Catalonia in Spain, Freixenet is the world's leading producer of sparkling wine. Founded in the 19th century, it remains a family owned business, but with an impressive portfolio of still and sparkling wine interests worldwide. Freixenet is available from leading supermarkets and all good off-licences. Freixenet Cordon Negro, Cordon Rosado and Cordon Oro are price £9.49. Elyssia Pinot Noir and Elyssia Gran Cuvé are available from Waitrose price £17.99. For more information, visit: www.Freixenet.co.uk.
More from Freixenet

Everyone loves a jelly - especially Jo Pratt's very sophisticated adult version with Freixenet Cava.

Jo Pratt's fruity dessert is fun to make and a delight to eat. These individual syllabubs are summer in a glass.

Jo Pratt's recipe is a real star at social gatherings - it looks impressive and yet couldn't be simpler
Popular in casserole recipes

A mouth-watering, comforting dish filled with flavour that'll fill you up and warm you from the inside out

A perfect one-pot dish that can just be left to cook in the oven, making it a convenient mid-week meal

This is a great one-pot dish. Look out for good quality meat in your supermarket