The great Mexican breakfast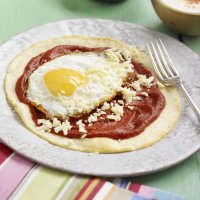 This is a delicious, dead easy brunch that will cure any hangover, restore good moods and pep you up for the weekend. Serve with refried beans for absolute perfection.
Cooking: 10 mins
Serves: 1
What you need:
Olive oil/lard
4 Mission Mexican Corn Tortillas
4 eggs
60g Lancashire cheese
A small handful chopped tarragon
Mission enchilada sauce (Combine tomato sauce and spice mix from Mission Mexican Fajita Meal Kit)
Salt and pepper
To serve
What you do:
Heat the sauce gently in a pan. Melt 1-2 tbsp of lard or olive oil in a separate frying-pan and gently turn the flatbreads in the oil. Put them in a low oven, wrapped in foil, to keep warm, along with four plates. Add the tarragon to the sauce and stir.
Melt the rest of the lard in the frying-pan and turn the heat right up until the fat is sizzling. Fry the eggs, two at a time, spooning the lard over the top of them so that they turn a golden colour at the edges and absorb some of the flavour. Season the eggs well with salt and pepper.
Put a flatbread on each plate and top with the tomato sauce. Put a fried egg on top and scatter with the grated Lancashire.
This is delicious with salsa and refried beans.
This page can be found at: http://secretsauce.co.uk/meat-poultry/breakfast-recipes/the-great-mexican-breakfast/
A short link can also be used: http://bit.ly/nkI0zX
Mission Mexican

The face of Mexican food in the UK is changing with the launch of Mission Mexican, a tasty range of Mexican inspired products designed to capture the energy and spirit of modern Mexican cooking. More than just a meal; Mexican cuisine is a culinary experience. It sits perfectly within growing consumer trends and desire for 'Eatertainment' - entertaining at home, participation in cooking and communal eating. The Mission Mexican launch range comprises of products such as mouth-watering meal kits, delicious cooking sauces, sensational salsas and tasty tortillas in a simple and convenient home cooking range.
More from Mission Mexican

These tostadas are delicious combining the smoky flavour of mackerel and chipotle, lightened with a vibrant, citrusy tomato salsa and finished with a slice of creamy avocado.

An enchilada is to Mexico what lasagne is to Italy. This is home cooking at its best, designed to make you feel good.
Popular in breakfast recipes

A delicious baked breakfast in one pot with crusty bread for dipping. Breakfast heaven

Nadia says: 'I love these delicious breakfast scones, they're so versatile. You can make them in advance, which is perfect for when I'm on the go, as I can just grab one as I rush out the door.'

Bored of the same old breakfast? Try this easy to make one which is healthy and will keep you full until lunchtime