Ricotta & spinach enchiladas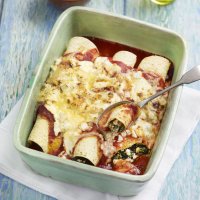 An enchilada is to Mexico what lasagne is to Italy. This is home cooking at its best, designed to make you feel good.
Cooking: 60 mins
Serves: 6
What you need:
Mission sauce (Combine tomato sauce and enchilada spice mix from Mission Mexican Fajita Meal Kit)
200 ml stock
A pinch cinnamon
475g cooked spinach, drained
30g pine nuts
50g raisins
150g ricotta
1/2 tsp grated nutmeg
6 Mexican Corn Tortillas
Olive oil
Salt and pepper
4-5tbs sour cream
80g feta, cheddar, ricotta, crumbled/grated
What you do:
Preheat the oven to 180°C
Heat up the fresh tomato sauce with the stock and half a teaspoon of ground cinnamon and check the seasoning.
Brown the pine nuts in a frying pan and set aside. Add 1 tbsp of olive oil to the frying pan and add the raisins. Cook for 2 minutes just until they plump up. Add the drained spinach, pine nuts, nutmeg, salt and pepper and cook until the spinach appears dry. Remove from the heat and add the ricotta.
In a clean frying pan, over a medium heat warm the tortillas one at a time in a little olive oil until they become flexible, about 20 seconds and then quickly drain them on kitchen paper. Spoon two tablespoons full of the spinach mixture onto the centre of each tortilla and roll. In an oven proof dish (26cm x 18cm) cover the base with a few spoonfuls of the tomato sauce, place the rolled tortillas on top, seam side down. Pour over the remaining sauce. Place the sour cream on top and sprinkle with cheese.
Bake for 30 minutes or until the cheese has melted and the sauce is bubbling.
This page can be found at: http://secretsauce.co.uk/vegetarian/mexican-recipes/ricotta-and-spinach-enchiladas/
A short link can also be used: http://bit.ly/pWYpdT
Mission Mexican

The face of Mexican food in the UK is changing with the launch of Mission Mexican, a tasty range of Mexican inspired products designed to capture the energy and spirit of modern Mexican cooking. More than just a meal; Mexican cuisine is a culinary experience. It sits perfectly within growing consumer trends and desire for 'Eatertainment' - entertaining at home, participation in cooking and communal eating. The Mission Mexican launch range comprises of products such as mouth-watering meal kits, delicious cooking sauces, sensational salsas and tasty tortillas in a simple and convenient home cooking range.
More from Mission Mexican

These tostadas are delicious combining the smoky flavour of mackerel and chipotle, lightened with a vibrant, citrusy tomato salsa and finished with a slice of creamy avocado.

This is a delicious, dead easy brunch that will cure any hangover, restore good moods and pep you up for the weekend. Serve with refried beans for absolute perfection.
Popular in mexican recipes
This delicious pepper and courgette burrito recipe is nutritious, quick and easy, and devised by Cook Yourself Thin's Sophie Michell

Children love to feel grown up and here they can enjoy creating their own favourite tacos. This filling would equally be delicious in a fluffy baked potato.