Smoked Mackerel Tostadas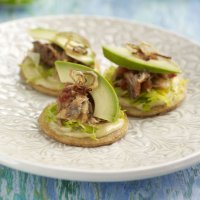 These tostadas are delicious combining the smoky flavour of mackerel and chipotle, lightened with a vibrant, citrusy tomato salsa and finished with a slice of creamy avocado.
What you need:
4 large Mission Mexican Corn Tortillas
300g smoked mackerel fillet (or any smoked fish/fresh raw mackerel, cut as for sushi)
Fresh tomato salsa
1 cos lettuce, shredded
1 avocado sliced
For the mayonnaise
2 tsp Mission Mexican Signature Paste
1 garlic clove, crushed
3 egg yolks
1 tbsp red wine vinegar
2 tsp Dijon mustard
Salt and pepper
1/2 tsp castor sugar
200ml oil - half olive and half vegetable
What you do:
To make the mayonnaise, put the egg yolks in a food processor with the mustard, half the chipotle, a good pinch of salt and the garlic and whiz to combine. With the motor running, slowly drip the oil through the funnel of the food processor until the mayonnaise starts to thicken and emulsify, at which time you can pour the oil in a thin stream.
Add half the vinegar and the sugar and taste (it may not need the other half). Season and add more chipotle if you like the mayonnaise spicier and smokier. Cut out rounds of tortilla about 4-5 cm across. Fry or bake the rounds as in the previous recipe, until crisp and golden. Flake the smoked mackerel with a fork and mix into the fresh tomato salsa. Spread each tostada generously with chipotle mayonnaise and top with shredded lettuce.
Spoon over the smoked mackerel salsa and top with a slice of avocado. Squeeze over a little lime juice and if you like sprinkle with deep fried shallots.
This page can be found at: http://secretsauce.co.uk/fish-seafood/mackerel-recipes/smoked-mackerel-tostadas/
A short link can also be used: http://bit.ly/nGsMwT
Mission Mexican

The face of Mexican food in the UK is changing with the launch of Mission Mexican, a tasty range of Mexican inspired products designed to capture the energy and spirit of modern Mexican cooking. More than just a meal; Mexican cuisine is a culinary experience. It sits perfectly within growing consumer trends and desire for 'Eatertainment' - entertaining at home, participation in cooking and communal eating. The Mission Mexican launch range comprises of products such as mouth-watering meal kits, delicious cooking sauces, sensational salsas and tasty tortillas in a simple and convenient home cooking range.
More from Mission Mexican

An enchilada is to Mexico what lasagne is to Italy. This is home cooking at its best, designed to make you feel good.

This is a delicious, dead easy brunch that will cure any hangover, restore good moods and pep you up for the weekend. Serve with refried beans for absolute perfection.
Popular in mackerel recipes

Feed the family healthy fish South American style with this great mackerel dish

A delicious dip which makes a good meze, starter or addition to a picnic or TV supper. Created by Theodore Kyriakou, this recipe is known in Greek kitchens as Koliosalata.

Oats aren't just for breakfast and make great toppings for meat or oily fish