Breakfast hash with bacon & poached eggs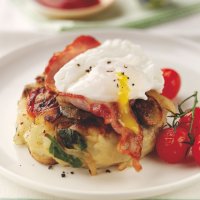 A tasty brunch recipe the whole family can enjoy
Preparation: 25 mins
Cooking: 10 mins
Serves: 4
What you need:
700g potatoes, diced
3 tbsp rapeseed oil
1 onion, sliced (200g)
150g mushrooms, sliced
100g spinach
150g cherry tomatoes, halved
4 slices lean back bacon
4 medium eggs, poached
What you do:
Boil the potatoes for 15-20 minutes until tender, drain and cool slightly.
Meanwhile, heat 1 tbsp oil in a frying pan and fry the onion for 4 minutes, add the mushrooms and fry for another 3 minutes. Add the spinach and tomatoes and cook for a further 1 minute. Roughly mash the potato and mix into the onion mixture. Season.
Meanwhile, cook the bacon under a preheated grill for 4-5 minutes.
Divide the potato hash into 4 rounds. Heat the remaining oil in a large frying pan and fry the hash rounds for 2 minutes on each side.
Top with bacon and a poached egg then serve.
Cook's tip:
Ideal for using up leftover cooked potatoes. For a breakfast brunch, add sausages.
This page can be found at: http://secretsauce.co.uk/meat-poultry/breakfast-recipes/breakfast-hash-with-bacon-and-poached-eggs/
A short link can also be used: http://bit.ly/sfQfHR
Farmhouse Breakfast Week 2012

Time to Shake Up Your Wake Up? Then look no further. To celebrate Farmhouse Breakfast Week (22-28 January 2012) we've put together some really tasty yet speedy breakfast ideas for you and your whole family to enjoy. For more quick and easy recipes visit: www.shakeupyourwakeup.com/breakfast
More from Farmhouse Breakfast Week 2012

Quick, simple and tasty too - no excuse not to make time for breakfast now!

Provides all the energy active mums need

The rolled oats help provide energy to keep you going
Popular in breakfast recipes

A delicious baked breakfast in one pot with crusty bread for dipping. Breakfast heaven

Nadia says: 'I love these delicious breakfast scones, they're so versatile. You can make them in advance, which is perfect for when I'm on the go, as I can just grab one as I rush out the door.'

Bored of the same old breakfast? Try this easy to make one which is healthy and will keep you full until lunchtime