Salsa chilli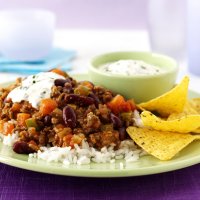 Filling beef chilli makes the perfect match with spicy tomato dip - just cool it down with a dollop of sour cream!
Serves: 2
Prep time: 5mins
Cooking time: 15mins
Calories per portion: 362
Fat per portion: 6.7g
What you need:
300g lean beef mince

1 green pepper, deseeded and chopped

1 small onion, chopped

1 tub of fresh salsa dip

225g can red kidney beans, drained

What you do:
In a non-stick frying pan, stir fry the mince, pepper and onion for about 10mins until browned and tender.

Add the salsa and beans with a little water; cover and simmer for 5mins until thickened and reduced.

Serve spooned over rice or in a tortilla wrap and finish it in style with dollop or two of soured cream and chive dip. Serve with a crisp green salad.
This page can be found at: http://secretsauce.co.uk/meat-poultry/beef-recipes/salsa-chilli/
A short link can also be used: http://bit.ly/fLzP6g
Fresh dips
Bakkavor Foods is a leading producer of supermarket own-label dips.
More from Fresh dips

Spice up a simple tomato soup recipe with chilli and paprika, then serve with a dollop of sour cream and chive dip and warm crusty bread

It's always a struggle getting your five a day but this recipe counts as 2 portions per serving. Don't forget the houmous and mint dip as a delicious side dish

This is a cheats' recipe for a classic Spanish tapas dish. Potatoes topped with spicy tomato and chilli sauce, the name literally means fierce potatoes
Popular in beef recipes

Beef stew is the best winter warmer, slow cooked for two hours to make sure the beef is tender and has absorbed all the delicious flavours

This easy-to-make tasty meal is really healthy - helping you towards your 5-a-day. Make it with beef mince, or choose Quorn mince if you're vegetarian.

Tender beef with the spice of chilli and the sweetness from sweet potato creates an exciting stew-type dish bursting with flavour.