Roast beef with lemon & anchovy butter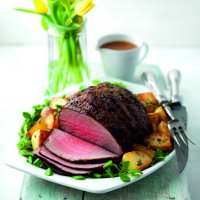 A delicious spring suggestion for your Sunday roast.
Preparation: 10 mins
Cooking: 110 mins
Serves: 6
What you need:
1 x 1.3kg/3lb lean topside or top rump joint
Salt and freshly milled black pepper
For the anchovy and lemon butter:
100g/4oz unsalted butter, softened
1/2 x 50g can anchovy fillets, drained and chopped
75ml/5tbsp freshly chopped lemon thyme leaves
For the gravy:
15ml/1tbsp plain flour
600ml/1pint good, hot beef stock
What you do:
Preheat the oven to Gas mark 4-5, 180-190°C, 350-375°F.
To prepare the butter; in a small bowl mix all the ingredients together. Place the joint on a chopping board, score the skin, season and spread generously all over with the butter.
Put any remaining butter on a large piece of cling film or foil, mould into a sausage shape and freeze for up to 2 months.
Place the joint on a rack in a roasting tin and open roast for the preferred, calculated cooking time, basting occasionally with any rich meat juices. Cover with foil if browning too quickly.
Remove from the oven, cover and leave to rest on a large plate for 15-20 minutes. Meanwhile, make the gravy; spoon off any excess fat from the roasting tin and discard. Place the roasting tin over a medium heat and sprinkle over the flour. Stir well with a small whisk or spoon, add a little stock and stir again, scraping the base of the pan to release any rich, beefy sediment.
Add the remaining stock and any meat juices from the plate. Adjust the seasoning if required and simmer for 8-10 minutes, stirring occasionally until reduced to a well-flavoured gravy. Strain before serving.
Garnish the beef with watercress leaves and serve with seasonal vegetables and the gravy.
Cook's tip:
Make use any remaining herb butter as a topping on pan-fried or grilled steaks.
This page can be found at: http://secretsauce.co.uk/meat-poultry/beef-recipes/roast-beef-with-lemon-and-anchovy-butter/
A short link can also be used: http://bit.ly/essQeS
Quality Standard beef

Quality Standard beef is produced to higher standards than required by law with a supply chain which is fully assured and independently inspected at every stage from farm to meat counter. For more recipes visit the recipe club.
More from Quality Standard beef

A great, traditional recipe, sure to keep the whole family happy. Don't forget the garlic bread!

Don't bore your guests with the usual party canapes, impress them with these little lovelies instead

A hearty and warming autumn dish that's easy to prepare and is well worth the wait!
Popular in beef recipes

Beef stew is the best winter warmer, slow cooked for two hours to make sure the beef is tender and has absorbed all the delicious flavours

This easy-to-make tasty meal is really healthy - helping you towards your 5-a-day. Make it with beef mince, or choose Quorn mince if you're vegetarian.

Tender beef with the spice of chilli and the sweetness from sweet potato creates an exciting stew-type dish bursting with flavour.