Beef, olive & red onion canapés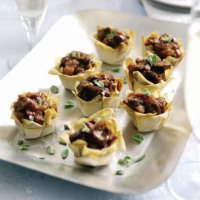 Don't bore your guests with the usual party canapes, impress them with these little lovelies instead
Preparation: 15 mins
Cooking: 120 mins
Serves: 20
What you need:
225g/8oz lean stewing or braising steak such as boneless shin, feather or chuck steak, cut into 1cm/½inch cubes
5ml/1tsp dried oregano
Salt and freshly milled black pepper
10ml/2tsp sunflower oil
1 small red onion, peeled and finely chopped
25g/1oz smoked back bacon, chopped or pancetta cubes
1 garlic clove, peeled and finely chopped
10ml/2tsp sun-dried tomato paste
150ml/¼pint red wine or good, hot beef stock
1 x 227g can chopped tomatoes
15-25g/½-1oz black or green olives, roughly chopped
200g/7oz filo pastry sheets, thawed if frozen
50g/2oz butter, melted
Fresh small oregano leaves, to garnish
What you do:
To make the filling, place the beef in a large bowl, season, add the dried oregano and mix well.
Heat the oil in a large non-stick frying pan and cook the beef for 4-5 minutes turning occasionally until brown.
Add the onion, bacon or pancetta and garlic to the frying pan and cook for 2-3 minutes until the onion is soft but not brown. Add the tomato paste, wine or stock and olives.
Spoon into a small casserole dish and bring to the boil, reduce the heat and simmer for 1½-2 hours, stirring occasionally. Preheat the oven to Gas mark 4, 180°C, 350°F.
To prepare the filo pastry, brush the filo sheets with the melted butter and with a sharp knife cut into 60 x 6cm/2½inch squares. Lightly grease 2 mini muffin tins and line each hole with three buttered filo squares, placing each one at a slightly different angle and gently press down.
Bake in the oven for 8-10 minutes until golden and crisp. Remove the tins from the oven and gently transfer the canapés to a metal cooling rack and set aside.
This page can be found at: http://secretsauce.co.uk/meat-poultry/canape-recipes/beef-olive-and-red-onion-canapes/
A short link can also be used: http://bit.ly/fIIBHa
Quality Standard beef

Quality Standard beef is produced to higher standards than required by law with a supply chain which is fully assured and independently inspected at every stage from farm to meat counter. For more recipes visit the recipe club.
More from Quality Standard beef

A great, traditional recipe, sure to keep the whole family happy. Don't forget the garlic bread!

A hearty and warming autumn dish that's easy to prepare and is well worth the wait!

All the hard work for this delicious dish is in the cooking - just pop in the oven and leave to tenderise and soak up the flavours
Popular in canape recipes

Delicious roast beef canapes, perfect for the buffet table

If you're looking for inspiration for some lovely Christmas canapes, watch people chase the plate around for seconds of these Peppadew salsa-topped beef ones!

Perfect for a buffet or to hand around at your Christmas party, these chicken and cranberry bites are delicious, so make sure you make lots!