Orange roast beef stuffed with spinach & herbs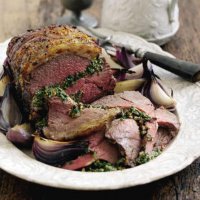 Roast beef with Yorkshire puddings is great for Sunday roasts but don't always make the same dish, try this one for a new spin on an old favourite
Preparation: 30 mins
Cooking: 120 mins
Serves: 4
What you need:
1 x 1.3kg/3lb lean topside, sirloin or fillet of beef joint
Salt and freshly milled black pepper
2 hard-boiled egg yolks, chopped
50g/2oz fresh baby spinach, rinsed and finely chopped
30ml/2tbsp freshly chopped flat-leaf parsley
15ml/1tbsp fresh thyme leaves
15ml/1tbsp freshly chopped oregano or marjoram leaves
4 medium red onions, peeled and cut into wedges
For the marinade:
30ml/2tbsp olive oil
Grated zest and juice of 2 Seville or Mandarin oranges or similar
2 shallots, peeled and finely chopped
2 garlic cloves, peeled and finely chopped
15ml/1tbsp sherry vinegar
What you do:
Place the joint on a chopping board, remove any butcher's string or elasticated meat bands and season on both sides. Using a sharp knife cut along the joint, horizontally, to create a pocket-like cavity, but do not cut all the way through.
In a medium bowl mix together the egg yolks, seasoning, spinach and herbs. Use the mixture to fill the cavity of the joint and tie with butcher's string or elasticated meat bands.
To prepare the marinade; mix all the ingredients together. Rub the marinade over the joint, cover and refrigerate for up to 4 hours, turning occasionally. Remove the joint from the fridge one hour before roasting. Preheat the oven to Gas mark 4, 180°C,350°F.
Place the onions in a roasting tin, remove the joint from the marinade and position on top of the onions. Discard the marinade.
Open roast for the preferred calculated cooking time, basting occasionally with any rich beefy juices.
Serve the beef with the onions and pan juices.
This page can be found at: http://secretsauce.co.uk/meat-poultry/beef-recipes/orange-roast-beef-stuffed-with-spinach-and-herbs/
A short link can also be used: http://bit.ly/f7NrGZ
Quality Standard beef

Quality Standard beef is produced to higher standards than required by law with a supply chain which is fully assured and independently inspected at every stage from farm to meat counter. For more recipes visit the recipe club.
More from Quality Standard beef

A great, traditional recipe, sure to keep the whole family happy. Don't forget the garlic bread!

Don't bore your guests with the usual party canapes, impress them with these little lovelies instead

A hearty and warming autumn dish that's easy to prepare and is well worth the wait!
Popular in beef recipes

Beef stew is the best winter warmer, slow cooked for two hours to make sure the beef is tender and has absorbed all the delicious flavours

This easy-to-make tasty meal is really healthy - helping you towards your 5-a-day. Make it with beef mince, or choose Quorn mince if you're vegetarian.

Tender beef with the spice of chilli and the sweetness from sweet potato creates an exciting stew-type dish bursting with flavour.