Caroline Mili Artiss's Tenderstem & beef pattani salad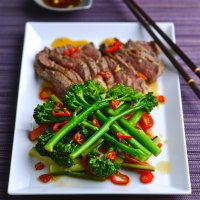 Caroline says: 'I love this recipe inspired by the cuisine of the Malaysian-Thai border - a fresh and fiery pattani broccoli and beef salad with lime, chilli, coriander and mint.'
Preparation: 5 mins
Cooking: 5 mins
Serves: 2
What you need:
Tenderstem
1 handful Cherry tomatoes, sliced in half
1/2 Cucumber sliced
1 handful fresh chopped coriander 2 tbsp
1 tbsp fresh chopped mint
1 large sirloin steak
Salt / pepper
Dressing:
1 tbsp light soy sauce
1 tbsp fish sauce
2 tbsp fresh lime juice
1 tbsp soft brown sugar
2 red chilies deseeded and finely sliced
1 clove garlic finely minced
1/2 tbsp sesame oil
What you do:
Season the steak well with salt and pepper. Cook each side for 2 - 3 minutes for medium
rare or longer for a more well coked steak. Leave to on side to rest for 5 minutes.
For the dressing simply whisk all the ingredients together until the sugar has dissolved.
Pop the Tenderstem and salad ingredients into a large bowl, pour the dressing over and toss well, thinly slice the beef and add to the salad then serve straight away.
This page can be found at: http://secretsauce.co.uk/meat-poultry/beef-recipes/caroline-mili-artiss-tenderstem-and-beef-pattani/
A short link can also be used: http://bit.ly/PQ3Mp2
Tenderstem
Tenderstem is a vegetable that's sweet, packed with good things and cooks in moments. And, because it's delicious from stem to tip, nothing needs to be discarded.
More from Tenderstem

Enjoy this delicious spaghetti dish created by Italian chef and owner of Zilli restaurants, Aldo Zilli

Halloumi's salty flavour is the perfect match for sweet cherry tomatoes and smooth Tenderstem broccoli

Lesley says: 'Tenderstem® Broccoli is perfect for stir-frying, it's rich in iron, vitamin C and folic acid. Roasting the duck on a rack with salt will ensure the skin goes really crispy.'
Popular in beef recipes

Beef stew is the best winter warmer, slow cooked for two hours to make sure the beef is tender and has absorbed all the delicious flavours

This easy-to-make tasty meal is really healthy - helping you towards your 5-a-day. Make it with beef mince, or choose Quorn mince if you're vegetarian.

Tender beef with the spice of chilli and the sweetness from sweet potato creates an exciting stew-type dish bursting with flavour.