Braised beef with Madeira sauce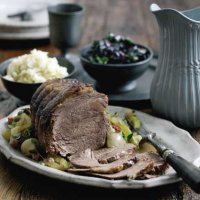 Truffle oil, Madeira sauce, beef cooked for two hours... Mouth watering yet?
Preparation: 15 mins
Cooking: 120 mins
Serves: 4
What you need:
1.3kg/3lb lean brisket or silverside joint
Salt and freshly milled black pepper
75g/3oz bacon, roughly chopped or bacon lardons
6 shallots, peeled and finely chopped
2 garlic cloves, peeled and crushed
15ml/1tbsp oil
1 small bunch fresh herbs (such as winter savory, oregano and thyme)
3 parsnips, peeled and chopped
4 celery sticks, chopped
450ml/¾pint good, hot beef stock
450ml/¾pint Madeira wine
10ml/2tsp good quality truffle oil
What you do:
Place the joint on a chopping board and season.
Heat a large non-stick frying pan and cook the bacon, shallots and garlic for 3-4 minutes. Transfer to a large ovenproof casserole dish.
In the same frying pan heat the oil and brown the joint on all sides for 4-5 minutes and transfer to the dish.
Add the remaining ingredients, cover the dish with 2 sheets of greaseproof paper or foil and secure with a lid.
Bring to the boil, reduce the heat and cook on the hob for the calculated cooking time until the beef is tender.
Remove the joint from the pan, transfer to a warm plate, cover and rest for 10 minutes before slicing. Meanwhile add the truffle oil to the sauce and stir gently.
Serve the brisket with the sauce, crushed potatoes and steamed cabbage
Cook's tip:
Alternatively, cook in the oven at Gas mark 3, 170°C,325°F
This page can be found at: http://secretsauce.co.uk/meat-poultry/beef-recipes/braised-beef-with-madeira-sauce/
A short link can also be used: http://bit.ly/gjql7K
Quality Standard beef

Quality Standard beef is produced to higher standards than required by law with a supply chain which is fully assured and independently inspected at every stage from farm to meat counter. For more recipes visit the recipe club.
More from Quality Standard beef

A great, traditional recipe, sure to keep the whole family happy. Don't forget the garlic bread!

Don't bore your guests with the usual party canapes, impress them with these little lovelies instead

A hearty and warming autumn dish that's easy to prepare and is well worth the wait!
Popular in beef recipes

Beef stew is the best winter warmer, slow cooked for two hours to make sure the beef is tender and has absorbed all the delicious flavours

This easy-to-make tasty meal is really healthy - helping you towards your 5-a-day. Make it with beef mince, or choose Quorn mince if you're vegetarian.

Tender beef with the spice of chilli and the sweetness from sweet potato creates an exciting stew-type dish bursting with flavour.