Beef fillets with wild mushrooms & armagnac sauce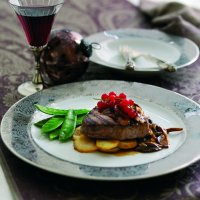 If you don't have any armagnac handy, brandy is fine instead and it really brings out the flavours of the mushroom and beef
Serves: 2
Preparation time: 25-30 minutes
Cooking time: Based on a fillet steak 2-3cm (¾-1¼inch) thick
Rare: 3-4 minutes on each side
Medium: 4-5 minutes on each side
Well done: 6-7 minutes on each side
What you need:
2 lean fillet steaks
25g/1oz unsalted butter
15ml/1tbsp olive oil
Salt and freshly milled black pepper
1 large shallot, peeled and finely chopped
50g/2oz mushrooms (wild, if in season), halved
300ml/½pint good, hot beef stock
45ml/3tbsp Armagnac or brandy
2 sprigs fresh thyme leaves
Fresh redcurrants, to garnish
For the potato slices:
375g/12oz small waxy potatoes, peeled and left whole
25g/1oz unsalted butter
150ml/¼pint good, hot vegetable stock
What you do:
Preheat the oven to Gas mark 6, 200°C, 400°F.
To prepare the potato slices; boil the potatoes in salted water for 10-15 minutes. Drain and cool slightly. When cool enough to handle slice to the thickness of a pound coin and transfer to a large bowl.
Add the melted butter, season and toss gently. On a foil lined shallow baking tray or roasting dish arrange four 8cm/3¼inch cakes in a single layer of overlapping slices. Pour over the stock and bake for 15-20 minutes or until tender and most of the stock has evaporated.
Meanwhile, melt half of the remaining butter with the oil in a non-stick griddle or frying pan. Season the fillets and cook according to your preference. Remove, transfer to a warm plate, cover and set aside to rest.
Add the shallots and mushrooms to the same pan and cook for 1-2 minutes. Add the Armangac or brandy. Cook for a further minute then add the stock and thyme. Bring to the boil, reduce the heat and simmer for 4-5 minutes or until reduced by half. Whisk the remaining butter into the sauce. Remove the thyme sprigs.
Arrange the potato cakes on a warm plate, top with the beef and spoon over the sauce. Garnish with the redcurrants and serve with seasonal vegetables.
Handy tip:
If preferred use rib-eye steaks as an alternative to fillet steak but reduce the cooking time by about a minute on each side.
This page can be found at: http://secretsauce.co.uk/meat-poultry/beef-recipes/beef-fillets-with-wild-mushrooms-armagnac-sauce/
A short link can also be used: http://bit.ly/eWxK9K
Quality Standard beef

Quality Standard beef is produced to higher standards than required by law with a supply chain which is fully assured and independently inspected at every stage from farm to meat counter. For more recipes visit the recipe club.
More from Quality Standard beef

A great, traditional recipe, sure to keep the whole family happy. Don't forget the garlic bread!

Don't bore your guests with the usual party canapes, impress them with these little lovelies instead

A hearty and warming autumn dish that's easy to prepare and is well worth the wait!
Popular in beef recipes

Beef stew is the best winter warmer, slow cooked for two hours to make sure the beef is tender and has absorbed all the delicious flavours

This easy-to-make tasty meal is really healthy - helping you towards your 5-a-day. Make it with beef mince, or choose Quorn mince if you're vegetarian.

Tender beef with the spice of chilli and the sweetness from sweet potato creates an exciting stew-type dish bursting with flavour.