Indian scotch egg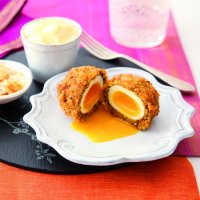 This recipe is a wonderful starter or snack and taste great with homemade dips. It can easily be made for vegetarians by substituting the lamb with mashed potatoes.
What you need:
250 g lamb mince
8 quail eggs / 4 hens eggs
2 tablespoons Patak's Rogan Josh Paste
1 tablespoon fresh coriander, chopped
1 Patak's Naan Bread ( I like Garlic & Coriander)
2 tablespoons plain flour
1 hen's egg, beaten
oil for deep-frying
salt, to taste
chives, to garnish
For the dips:
1 egg yolk
1 teaspoon white wine vinegar
1/2 teaspoon French mustard
1/2 teaspoon sugar
150 ml vegetable oil
1 clove garlic, chopped
pinch of coarse sea salt
pinch of white pepper
1 tablespoon Patak's Brinjal Pickle
1 tablespoon thick Greek yoghurt
What you do:
Heat the oil to 180°C.
In a bowl mix together the lamb mince, Patak's Rogan Josh Paste and fresh coriander.
Whilst the lamb is marinating, boil the eggs. Add the eggs to simmering boiling water and cook for 1 minute. Remove from the heat and leave in the water for 30 seconds for quail eggs and 6 minutes for hens eggs. Remove carefully and plunge them into ice-cold water.
Carefully peel the eggs by gently tapping them on a hard surface before removing the shell. Set aside.
Grate the Patak's Naan Bread on a grater so they resemble breadcrumbs.
Take 1 tablespoon of spiced lamb and flatten it in the palm of your hand.
Put a soft-boiled egg in the centre. Gently wrap the spiced lamb around the outside of the egg until all the egg is sealed inside.
Roll in a little plain flour and dip in the beaten egg.
Roll in the naan breadcrumbs. Repeat until all the eggs are coated.
Fry the Indian scotch eggs for 4 - 5 minutes until golden brown. Drain on absorbent paper.
This page can be found at: http://secretsauce.co.uk/meat-poultry/indian-recipes/indian-scotch-egg/
A short link can also be used: http://bit.ly/fqLia8
Patak's

Patak's - Be inspired by over 150 Indian recipes to help you create authentic, delicious meals at home.
More from Patak's

An Indian meal wouldn't be complete without the traditional onion bhajis and they take just 25 minutes to prepare and cook

Share these colourful, tasty dips and salsas with friends - perfect for eating al fresco

You can't accuse this salad of being boring - the couscous with a medium spice curry flavour give it a real kick
Popular in indian recipes

One of the world's most popular Indian dishes is chicken korma, famous for its mild and creamy taste - replace the chicken with prawns if you wish

A mouth-watering lamb burger, which is simply bursting with flavour and perfect for cooking on the barbecue or for a warming winter meal

If you fancy a curry that isn't full of bad-for-you flavourings and colourings, try this homemade madras curry recipe!