Lesley Waters' Tenderstem broccoli & salmon parcels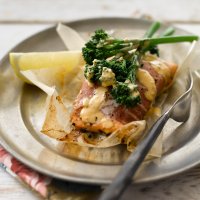 Try these tasty salmon parcels with spicy moroccan butter sauce created by chef Lesley Waters from Ready Steady Cook, This Morning and Great Food Live.
Lesley says: "This is the simplest form of steaming and a good way to cook vegetables and fish keeping in all the flavour and nutrients. When you make a parcel, the white wine turns to steam and cooks the broccoli and salmon to perfection in a delicious scented vapour. Let each guest open their own parcel - as they open it up, the aromatic steam smells wonderful. The spicy butter sauce is made with Harissa a Moroccan blend of chillies and spices."
Serves: 4
Prep: 15 minutes
Cook: 12 minutes
What you need:
325g Tenderstem broccoli, blanched, refreshed and drained
4 x 125g, boneless, skinless salmon fillets
1 shallot, finely chopped
Black pepper
1 orange, juice only
4 slices Parma ham
285ml white wine
1tbsp white wine vinegar
1-2tsp harissa paste
90ml double cream
55g unsalted butter, chilled and diced
Others:
4 x 36cm squares of baking paper or foil
What you do:
Pre heat the oven to 200C, 400F, Gas mark 6, fan oven 190C
Divide the Tenderstem broccoli stems and place on one half of the paper/foil squares. Season with freshly ground black pepper and scatter over the shallots.
Squeeze a little orange juice over the salmon fillets and season well. Wrap each salmon fil let in a slice of Parma ham and place on top of the Tenderstem® broccoli. Drizzle each with a tablespoon of white wine.
Fold the other half of the paper/foil over the fish and twist the edges together to form a seal.
Transfer to a baking tray and place in the oven for 12-14 minutes until the fish and Tenderstem broccoli are just cooked through.
Meanwhile make the chilli butter sauce. In a small pan pour in the remaining white wine, vinegar and bring to the boil, simmer until the liquid has reduced by half. Add the harissa paste and cream and reduce a little further.
Turn down the heat and gently whisk in the chilled butter. Season with salt, pepper and a squeeze of orange juice.
Place each pack on its own serving plate, take to the table to open and eat! Serve with a good drizzle of spicy butter sauce.
This page can be found at: http://secretsauce.co.uk/fish-seafood/salmon-recipes/salmon-broccoli-parma-ham/
A short link can also be used: http://bit.ly/fLfjMD
Tenderstem
Tenderstem is a vegetable that's sweet, packed with good things and cooks in moments. And, because it's delicious from stem to tip, nothing needs to be discarded.
More from Tenderstem

Enjoy this delicious spaghetti dish created by Italian chef and owner of Zilli restaurants, Aldo Zilli

Halloumi's salty flavour is the perfect match for sweet cherry tomatoes and smooth Tenderstem broccoli

Lesley says: 'Tenderstem® Broccoli is perfect for stir-frying, it's rich in iron, vitamin C and folic acid. Roasting the duck on a rack with salt will ensure the skin goes really crispy.'
Popular in salmon recipes

Lemon perfectly complements salmon so you might just have found your perfect tart recipe!

A fantastic flavour pairing by top London chef Theodore Kyriakou who says: 'I like eating the salmon pink in the middle with some rice pilaf.'

You need just three main ingredients for this easy family dish - salmon, pastry and onions