Marinated salmon fillet with mash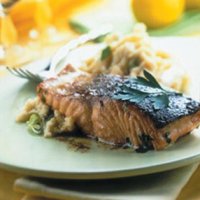 The key to the lovely flavour of this salmon fillet is in the balsamic marinade. Leave it in for at least 10 minutes - the longer the better to soak up the juice
Serves: 4
Preparation time: 5 minutes
Cooking time: 10 minutes
Nutritional information:
379 kilocalories
Carbohydrates: 19
Fat: 22
Omega-3: 2
What you need:
4 x 125g (4oz) Tartan Quality Mark salmon fillets
2 tbsp olive oil
1 tbsp balsamic vinegar
Juice of half lemon
Handful of chopped parsley
Salt and pepper
450g (1lb) hot mashed potatoes (or a family pack of instant mash - follow instructions on packet)
Bunch of spring onions, sliced
What you do:
Pre-heat oven to 19O C/375 F /Gas Mark 5.
Mix 1 tbsp oil, balsamic vinegar, lemon juice and half the parsley. Place the salmon, skin side up, in a shallow oven proof dish, season and pour over the marinade. Allow to marinade for at least 10 minutes.
Cook the salmon in oven for 8 - 10 minutes. The salmon is cooked when the flesh becomes opaque or when it flakes easily with a fork.
Combine mash with remaining oil, parsley and spring onions.
Serve the salmon on a bed of mash.
Whilst every effort is made to provide accurate information, nutritional values are supplied for general information only. Recipe and image kindly provided by Scottish Quality Salmon
This page can be found at: http://secretsauce.co.uk/fish-seafood/salmon-recipes/marinated-salmon-fillet-with-mash/
A short link can also be used: http://bit.ly/hX6bzZ
Seafish
From sea to plate, Seafish delivers expert knowledge, skills and support which help the UK seafood industry secure a sustainable and profitable future. To request a free 'Fish for Thought' guide with tips on buying, storing and cooking fish for the family, email info@efamol.com
More from Seafish

If you're having a barbecue and are looking for something new and exciting to cook, this herring dish is well worth a try

Prawn or lobster, a bisque is always a delicious treat. Creamy, fishy, and warming, just make sure you've got some fresh crusty bread ready to serve

Feed the family healthy fish South American style with this great mackerel dish
Popular in salmon recipes

Lemon perfectly complements salmon so you might just have found your perfect tart recipe!

A fantastic flavour pairing by top London chef Theodore Kyriakou who says: 'I like eating the salmon pink in the middle with some rice pilaf.'

You need just three main ingredients for this easy family dish - salmon, pastry and onions