Tenderstem broccoli & smoked salmon tart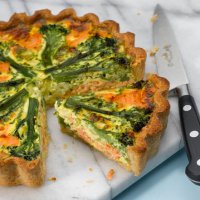 Smoked salmon with cream, broccoli and spring onions - this tart is great for family meals, or let it cool and have it for lunch the next day!
What you need:
1 x 20cm baked shortcrust pastry case
150g Tenderstem broccoli (8-9 spears)
2 medium eggs
2 medium egg yolks
1 x 142ml carton single cream
4 spring onions, finely sliced
small handful of flat leaf parsley, chopped
125g smoked salmon, chopped
salt and pepper
What you do:
Preheat the oven to 175°C/350°F/gas mark 4.
Cut the Tenderstem® broccoli into pieces, so that each floret end is about 7-8 cm in length. Roughly chop the stalk pieces. Cook all the Tenderstem® broccoli in boiling water for 4 minutes, refresh under cold water and set aside.
Mix together the eggs, egg yolks, cream, spring onions and parsley. Season with pepper and a little salt, if liked (the smoked salmon may add enough salt for your taste).
Arrange the smoked salmon and the chopped stalk pieces of Tenderstem® broccoli in the baked pastry case. Pour the egg and cream mixture over. Arrange the floret end pieces of Tenderstem® broccoli in the tart like the spokes of a wheel, with the florets around the edge of the tart.
Bake the tart in the preheated oven for about 25 minutes or until golden brown on top and just set.
Serve the tart with a crisp green salad with a lemony dressing.
This page can be found at: http://secretsauce.co.uk/fish-seafood/salmon-recipes/broccoli-smoked-salmon-tart/
A short link can also be used: http://bit.ly/iiVFnK
Tenderstem
Tenderstem is a vegetable that's sweet, packed with good things and cooks in moments. And, because it's delicious from stem to tip, nothing needs to be discarded.
More from Tenderstem

Enjoy this delicious spaghetti dish created by Italian chef and owner of Zilli restaurants, Aldo Zilli

Halloumi's salty flavour is the perfect match for sweet cherry tomatoes and smooth Tenderstem broccoli

Lesley says: 'Tenderstem® Broccoli is perfect for stir-frying, it's rich in iron, vitamin C and folic acid. Roasting the duck on a rack with salt will ensure the skin goes really crispy.'
Popular in salmon recipes

Lemon perfectly complements salmon so you might just have found your perfect tart recipe!

A fantastic flavour pairing by top London chef Theodore Kyriakou who says: 'I like eating the salmon pink in the middle with some rice pilaf.'

You need just three main ingredients for this easy family dish - salmon, pastry and onions