Thai green curry with prawns & Bellaverde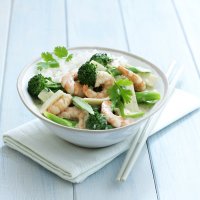 Bellaverde broccoli goes so well with the flavours of a Thai green prawn curry - try it and see!
Preparation: 5 mins
Cooking: 15 mins
Serves: 4
What you need:
200g Bellaverde broccoli
225g/8oz Thai fragrant rice
1 (400g) can reduced fat coconut milk
30ml/2tbsp Thai Green Curry paste
5ml/1tsp fish sauce
1 tsp granulated sugar
500g/1lb raw peeled tiger prawns, thawed if frozen
1 (220g) can sliced bamboo shoots, drained
4 spring onions, sliced
zest and juice 1 lime
45ml/3tbsp fresh chopped coriander leaves
What you do:
Prepare the bellaverde by trimming a little off the end of each spear. Place the rice in a sieve, rinse under with cold water, then cook in a medium pan of boiling water for 10 mins or until tender.
Whilst the rice cooks place the coconut milk, curry paste, fish sauce and sugar in a large frying pan or wok. Slowly bring to the boil, then add the bellaverde®, reduce the heat, cover and simmer for 3-4 mins or until just tender.
Stir in the spring onions, prawns and bamboo shoots and stir well. Bring the mixture back to the boil, then simmer for 2 mins, stirring occasionally until the prawns have turned pink. Stir in the lime zest and juice and coriander.
Drain the rice in a sieve and divide between four bowls, top with the prawn curry and serve.
Cook's tip:
Bellaverde broccoli takes just three minutes to cook with nothing being wasted, it can all go into the pan. An 80g serving counts as one of your 5-a-day and contains just 26 kcals.
This page can be found at: http://secretsauce.co.uk/fish-seafood/prawn-recipes/thai-green-curry-with-prawns-and-bellaverde/
A short link can also be used: http://bit.ly/dSPKFz
Bellaverde Broccoli

If you're looking for broccoli with a unique, sweet taste which is not only a versatile ingredient but is equally delicious when eaten on its own, then look no further than Bellaverde.
More from Bellaverde Broccoli

Packed full of goodness, this pasta dish will have your family well on their way to their five a day!

A tasty oven bake which is great as a midweek family meal

Steak and Hollandaise sauce is always a crowd-pleaser, just add some Bellaverde broccoli and the meal's complete!
Popular in prawn recipes

Tender prawns are great in stir-fries, the cashew nuts give this dish an added crunch and the shiitake mushrooms are tender and full of flavour

A delicious sandwich enhanced by homemade seafood sauce

Forget the Eighties classic in a cocktail glass, this version is right up to date and includes smoked salmon!