Cajun mackerel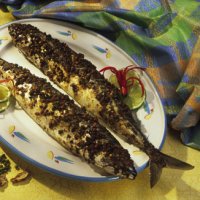 Feed the family healthy fish South American style with this great mackerel dish
Serves: 4
What you need:
4 small mackerel, cleaned
3 x 5ml spoon (3 teaspoons) coriander seeds
3 x 5ml spoon (3 teaspoons) allspice berries
3 x 5ml spoon (3 teaspoons) green peppercorns
3 x 5ml spoon (3 teaspoons) cumin seeds
3 x 15ml spoon (3 tablespoons) white wine vinegar
1-2 drops of Tabasco sauce
1-2 drops of Angostura bitters
1-2 drops of Worcestershire sauce
55g (2oz) butter or margarine
chilli flowers, lime or lemon slices, to garnish
What you do:
Grind the spices using a pestle and mortar or place in a plastic bag and crush with a rolling pin.
Mix the vinegar, Tabasco, bitters and Worcestershire sauce together in a small bowl and stir in the crushed spices.
Make 3 diagonal cuts on one side of the fish and brush with the spice mixture. Leave to marinate in a cool place for about 1 hour.
Melt the butter or margarine in a large shallow pan until sizzling. Fry the mackerel for 5-6 minutes until the spices have turned black. Turn the fish over and cook for a further 2-3 minutes.
Garnish and serve with hot rolls and a crisp green salad.
This page can be found at: http://secretsauce.co.uk/fish-seafood/mackerel-recipes/cajun-mackerel/
A short link can also be used: http://bit.ly/eTE9OR
Seafish
From sea to plate, Seafish delivers expert knowledge, skills and support which help the UK seafood industry secure a sustainable and profitable future. To request a free 'Fish for Thought' guide with tips on buying, storing and cooking fish for the family, email info@efamol.com
More from Seafish

If you're having a barbecue and are looking for something new and exciting to cook, this herring dish is well worth a try

Prawn or lobster, a bisque is always a delicious treat. Creamy, fishy, and warming, just make sure you've got some fresh crusty bread ready to serve

Ready in just 20 minutes, the flavours of this fish are beautifully enhanced with the fennel and coriander
Popular in mackerel recipes

A delicious dip which makes a good meze, starter or addition to a picnic or TV supper. Created by Theodore Kyriakou, this recipe is known in Greek kitchens as Koliosalata.

Oats aren't just for breakfast and make great toppings for meat or oily fish

Fresh mackerel is a delicious and simple fish when cooked quickly on a hot grill and this is a fantastic marinade featuring some of the key ingredients of Indonesian cooking