Haddock fillet with leek & spinach stuffing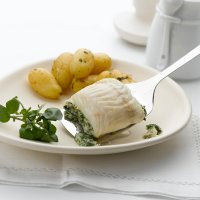 Traditional ingredients served in a simple but colourful way. Haddock fillets rolled around a creamy filling combining leeks, spinach and tangy goats' cheese; the lemony flavour of which compliments the haddock to perfection.
Serves: 4
Prep: 15 minutes
Cook: 20 mins

What you need:
4 fillets of haddock, skinned
25g/1oz butter
1 lemon
25g/1oz butter
2 leeks trimmed, washed and shredded
200g/7oz baby spinach leaves
75g/3oz creamy Welsh goats' cheese
75g/3oz fresh white breadcrumbs
1/2 tsp freshly grated nutmeg
Seasoning of sea salt and ground black pepper
What you do:
Prepare the filling. Sweat shredded leeks in the butter for 2 - 3 minutes to soften. Add the spinach leaves and cook briefly until just wilted. Place ingredients into a colander and squash out juices using a potato masher. Combine leek and spinach mix with remaining filling ingredients.
Lay haddock fillets flat on a chopping board. Spread with the filling and roll up. Rest in a shallow ovenproof dish lined with baking parchment. Dot with butter and lemon juice. Cover with wetted baking parchment and cook for 20 - 25 minutes until the fish is just cooked.
Serve with new potatoes and sprigs of watercress.
This page can be found at: http://secretsauce.co.uk/fish-seafood/haddock-recipes/haddock-fillet-with-leek-spinach-stuffing/
A short link can also be used: http://bit.ly/dOS2Kr
British Leeks

With rising food prices making us all more supermarket savvy, choose British leeks for flavour on your table and change at the checkout.
More from British Leeks

Delicious spiced, warming, thick soup for supping on chilly days. Great served with fingers of grilled nan bread.

Just because it's cheap (£4.50 for four) doesn't mean it's lacking in flavour! And it's great for mid-week as it takes just 30 minutes cooker to table

This delicious sausage and mash is made a little bit special with chives in the mash and leeks in the casserole
Popular in haddock recipes

A great dish which is simple to make, guaranteed to impress your other half

A filling fishy chowder to keep the winter chills right the other side of the front door where they belong

Fish, flaky pastry, vegetables and white sauce left to bake in the oven for 30 minutes - a delicious family pie!