Pomegranate, raspberry & banana smoothie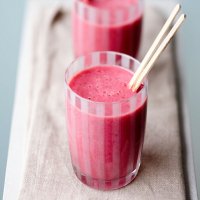 Full of delicious sweet fruit and healthy vitamins, this smoothie will get you going in the morning, or give you an energy boost in the afternoon!
Serves: 2
Per Serving:
Total calories: 169 kcal
(g)
Total fat: 1.7
Saturated fat: 0.4
Polyunsaturated fat: 0.9
Monounsaturated fat: 0.4
Carbohydrates: 36
Sugar: 35
Total Protein: 4.0
(Soya protein: 2.4)
What you need:
100g/4oz raspberries
1 banana, sliced
125g Alpro soya raspberry and vanilla alternative to yogurt
300ml/½pt pomegranate juice
What you do:
Put the raspberries, banana, raspberry and vanilla yogurt and pomegranate juice together in a blender.
Blitz together until smooth and combined.
Pour into two glasses and serve.
This page can be found at: http://secretsauce.co.uk/drinks/smoothie-recipes/pomegranate-smoothie/
A short link can also be used: http://bit.ly/eH817U
Alpro Soya

Alpro Soya creates delicious products for you to enjoy any time of the day. Made from the goodness of the whole soya bean, they are prepared with care and with the utmost respect for people and planet.
More from Alpro Soya

Don't just boil those potatoes - make them a dish in itself with this delicious traditional recipe

Looking for a vegetarian alternative for Christmas dinner? Try this traditional and delicious nut roast

Start the day with this substantial breakfast that will give you enough energy to last until lunchtime
Popular in smoothie recipes

Need some get up and go in the morning? This smoothie is just what you need. Ready, steady...

A delicious, healthy smoothie with a ginger kick

This super quick detox smoothie is low in saturated fat and perfect to kick-start your morning