Raspberry & kiwi fruit smoothies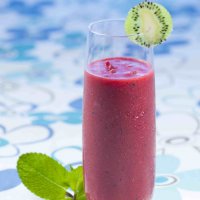 So delicious and healthy too! Use Calcium Rice Dream if you want to boost your body's intake of this important mineral.
Preparation: 5 mins
Cooking: 10 mins
Serves: 2
What you need:
2 kiwi fruit
200g fresh or frozen raspberries
8 mint leaves
200ml Calcium Rice Dream
4 ice cubes
Kiwi fruit slices and mint leaves, to decorate
What you do:
Peel the kiwi fruit and cut into cubes
Add to a blender with the other ingredients
Blend until smooth and serve right away
Decorate with sliced kiwi and mint leaves
This page can be found at: http://secretsauce.co.uk/drinks/smoothie-recipes/raspberry-and-kiwi-fruit-smoothies/
A short link can also be used: http://bit.ly/e4Tfw4
Rice Dream

Rice Dream is a delicious, easy to digest alternative to dairy and soya milks. Made from the finest Italian rice, it is naturally lactose free and low in fat. And it contains no artificial additives of any kind. Use it just like milk. Enjoy it on your favourite breakfast cereals, in tea and coffee, or as a refreshing chilled drink.
More from Rice Dream

This sorbet is unusual and packed with tropical flavour - a refreshing way to end a meal.

Muffins don't have to be sweet: these savoury ones are irresistible!
Popular in smoothie recipes

A delicious, healthy smoothie with a ginger kick

This super quick detox smoothie is low in saturated fat and perfect to kick-start your morning

Need some get up and go in the morning? This smoothie is just what you need. Ready, steady...