Peach & fig smoothie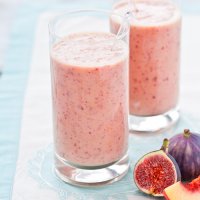 A delicious, nutrient-dense smoothie
Preparation: 5 mins
Serves: 4
What you need:
4 peaches or nectarines, pitted and quartered
4 figs, tips removed and quartered
375-500ml Kallo Original Soya Milk
2-3 tbsp Manuka honey
1 tbsp linseeds (optional)
What you do:
Put all of the ingredients into a blender or food processor and blend thoroughly until creamy. Serve immediately.
This page can be found at: http://secretsauce.co.uk/drinks/smoothie-recipes/peach-and-fig-smoothie/
A short link can also be used: http://bit.ly/ssfUUg
Kallo

Kallo has been creating delicious, simple recipes from the finest natural ingredients and making food and drink with the utmost thought for people's wellbeing and enjoyment for more than 20 years. In fact our whole philosophy is 'Kallo. Thought for food' because we believe the more you think about food, the more you enjoy it.
More from Kallo

A delicious and healthy fish pie - perfect for any winter evening

What could be more delicious than cream cheese and Parma ham, topped with some sweet, juicy figs?

A delicious, quick and easy sweet snack, ideal for working mums always on the move
Popular in smoothie recipes

Need some get up and go in the morning? This smoothie is just what you need. Ready, steady...

This super quick detox smoothie is low in saturated fat and perfect to kick-start your morning

So delicious and healthy too!