Strawberry, Prosecco, Campari, elderflower & mint cocktail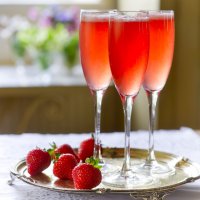 This cocktail is a delicious and beautiful drink to get the party started. The flavours of summer - strawberry, elderflower and mint - add sweetness and colour to fizzy, dry Prosecco and the slight bitterness of Campari. Serve this cocktail in chilled champagne flutes, with fresh strawberries to decorate, and a bowl of fresh olives and oven warm bread: it's the perfect way to greet guests
Preparation: 10 mins
Serves: 6
What you need:
300g Sweet Eve strawberries
6 sugar cubes (optional)
3 shots of elderflower cordial
3 shots of Campari
1 bottle of Prosecco
What you do:
Take 6 large champagne flutes and chill in the refrigerator. Hull all the strawberries and chop and blend half of them. Strain the strawberry puree into a jug through a sieve, to eliminate the seeds.
When you are ready to serve the cocktail place a cube of sugar at the bottom of each glass, (if you prefer your cocktails less sweet then you can leave the sugar out). Pour half a shot of elderflower into each glass, followed by half a shot of Campari and half a shot of strained strawberry puree.
Open the Prosecco bottle and top each flute with fizzy wine. Mix with a cocktail stirrer and serve with the remaining Sweet Eve strawberries.
This page can be found at: http://secretsauce.co.uk/drinks/alcoholic-cocktail-recipe/strawberry-prosecco-campari-elderflower-and-mint/
A short link can also be used: http://bit.ly/RRY9d0
Sweet Eve Strawberries

Sweet, juicy and plump, British strawberries are undeniably the taste of a good summer. Sweet Eve is a new variety of British strawberry. Packed with sweetness and flavour Sweet Eve is in season from June until October and it tastes like strawberries used to taste.
More from Sweet Eve Strawberries

Sophie says: 'I love making this as a celebration cake for special occasion - the layers of meringue with the fruit in between look very pretty.'

When it gets a bit wintry nothing beats a great crumble for dessert - it's sweet, crunchy and with a dribble of custard, perfect!

Strawberries, cream and a dash of cinnamon - the perfect pudding combination.
Popular in alcoholic cocktail recipe

A blast from the past goes Cuban! A slightly more sophisticated version of that Latin crushed ice favourite.

This refreshing gin fizz cocktail was created exclusively for Jacksons of Piccadilly by food writer Ghillie James

I bet it's a while since you tasted a gooseberry and there's no better way to refresh your memory than with this lovely gooseberry mojito