Spring gin fizz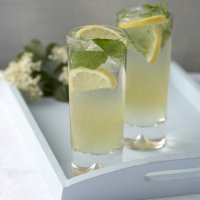 This refreshing gin fizz cocktail was created exclusively for Jacksons of Piccadilly by food writer Ghillie James
Serves: 2
What you need:
200ml (7 fl oz) Jacksons of Piccadilly Fairtrade Green Tea with Elderflower (made with two tea
bags), chilled
100ml (3 1/2 fl oz) gin
4 tbsp gomme syrup (sugar syrup)
4 tbsp lemon juice, plus some lemon slices
16 mint leaves
Soda water
What you do:
Pour the tea, gin, syrup, lemon juice, gomme syrup and mint into a jug.
Using the end of a wooden spoon, pound the mint leaves to release their flavour.
Add plenty of ice and lemon slices and top up with soda.
Mix using a spoon and pour into two glasses.
Add a sprig of fresh mint to the top of each glass.
This page can be found at: http://secretsauce.co.uk/drinks/alcoholic-cocktail-recipe/spring-gin-fizz-cocktail/
A short link can also be used: http://bit.ly/hgaO3q
Jacksons of Piccadilly
Jacksons of Piccadilly
supplies the finest quality teas from around the world. Inspired by the natural beauty of plants, it creates only the simplest teas and authentic blends.
More from Jacksons of Piccadilly

Drizzle cake always goes down a treat and instead of the usual lemon, this one's got lime and orange in it too for a delicious fruity twist
Popular in alcoholic cocktail recipe

A blast from the past goes Cuban! A slightly more sophisticated version of that Latin crushed ice favourite.

Here the punchy notes of the juniper are really bolstered by the rich fruity blackcurrant of creme de cassis.

I bet it's a while since you tasted a gooseberry and there's no better way to refresh your memory than with this lovely gooseberry mojito