Victorian mojito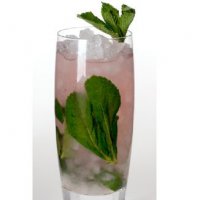 A blast from the past goes Cuban! A slightly more sophisticated version of that Latin crushed ice favourite. The apple and mint really come to life alonside the flavoursome Tanqueray Gin.
Alcohol units: 2.2
What you need:
Tall glass
50ml Tanqueray Gin
25ml lemon juice
1 teaspoon of brown sugar
8 mint leaves plus more to garnish
Sparkling or pressed apple juice
What you do:
In a tall glass, pour 50ml of Tanqueray Gin over ice.
Add 25ml lemon juice.
Stir in 1 teaspoon of brown sugar until dissolved.
Stir and crush 8 mint leaves.
Top with sparkling or pressed apple juice.
Garnish with mint leaves.
This page can be found at: http://secretsauce.co.uk/drinks/alcoholic-cocktail-recipe/victorian-mojito/
A short link can also be used: http://bit.ly/i1U2Tl
Tanqueray Gin

Tanqueray Gin reveals a slightly bittersweet juniper taste with hints of lavender and camphor. This makes it the perfect partner for the driest martinis and the crispest Tanqueray and tonics.
More from Tanqueray Gin

The makers of Tanqueray gin have teamed up with some of the country's leading style bars to produce a range of Valentine's themed cocktails for the special day. This one's from Balmoral Bar, Edinburgh

Here the punchy notes of the juniper are really bolstered by the rich fruity blackcurrant of creme de cassis.

A taste to tantalise. The coriander seeds in Tanqueray Gin are matured for two years to release those slightly spicy ginger, sage and lemon flavours
Popular in alcoholic cocktail recipe

This refreshing gin fizz cocktail was created exclusively for Jacksons of Piccadilly by food writer Ghillie James

I bet it's a while since you tasted a gooseberry and there's no better way to refresh your memory than with this lovely gooseberry mojito

Rhubarb is one of Britain's early fruits, and is fantastic when combined with ginger. This is a fun and zingy cocktail - a little sweet but a little sassy too!